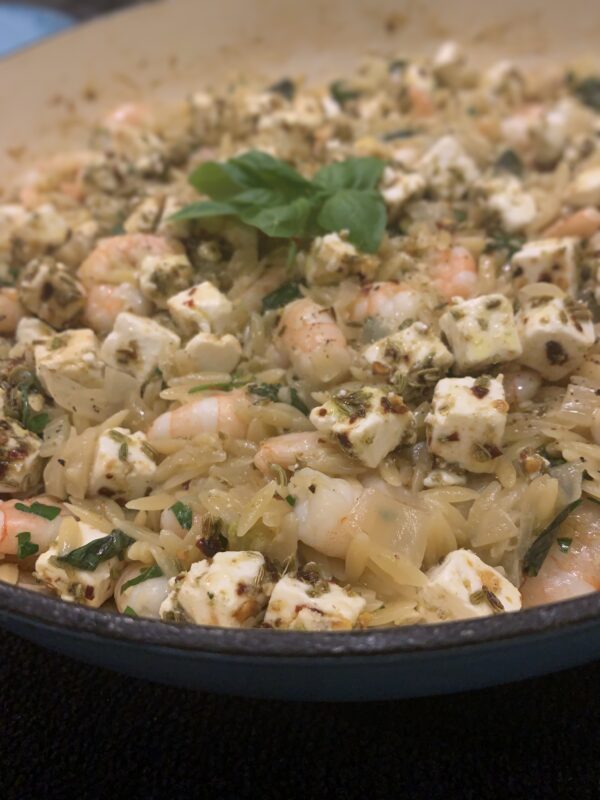 | | |
| --- | --- |
| | |
Preheat the oven to 180C / fan 160C / gas mark 4

In a small bowl, mix the feta with ¼ tsp. of the chilli flakes and the crushed fennel seeds plus a tbsp. good extra virgin olive oil. Set aside.

Place a large ovenproof casserole pot over a medium heat with the remaining 2 tbsp. olive oil. Add the finely diced onion and fennel to the pan and sauté them until softened and starting to caramelise, around 10 minutes. Add the garlic and fry for a minute or so until the garlic starts to brown lightly.

Deglaze the pan with the white wine and use a spatula to scrape all the sticky bits off the bottom of the pan. Leave to simmer and reduce by a half.

Add the preserved lemon, chicken stock and a splash of the preserved lemon brine. Bring back to the boil, cook for a couple of minutes. Stir in the orzo, season with salt and pepper and then cover and place in the oven for 10-12 minutes, or as long as it takes the orzo to cook on your packet instructions. After around 10 minutes the orzo should have absorbed most of the liquid.

Take out of the oven, remove the lid and quickly stir in the prawns and lemon zest. Cook for a couple of minutes until the prawns turn pink. Taste for seasoning and finish with the herbs and a drizzle of good EVO and a squeeze of lemon. Top with the feta and serve
TOP TIPS
Orzo is very popular in Turkey and Greece. It is a pasta shape that looks like rice grains and cooks a bit like risotto. Its other bonus is that it cooks incredibly quickly.
You can change the herbs and use a mixture of parsley and mint or parsley and dill. Unless you loathe aniseed don't skip the fennel and fennel seeds. It's a key flavour, even though it's subtle.
Make the dish vegetarian by omitting the prawns and adding 200g small leaf spinach and wilt or even chickpeas.
The marinated feta is great with olives as a canapé