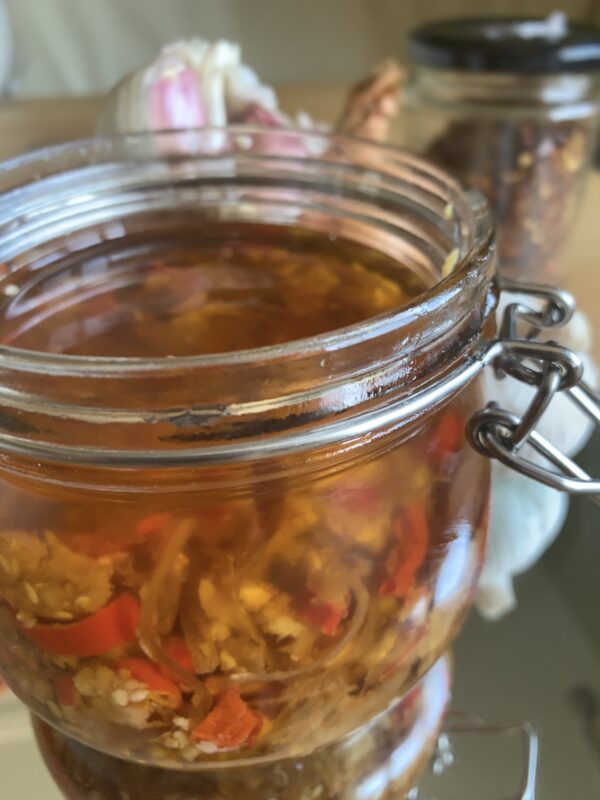 | | |
| --- | --- |
| | |
It is a good idea to have everything weighed out and chopped before you start.

Thinly slice the onions (I often use a mandolin)and add the sunflower oil to a large deep saucepan so there is a good amount of space from the top as the oil can rise up and spit. Set over a medium high heat and slowly bring the oil up to a high heat

Test the oil by placing a piece of onion in the pan and it should sizzle and bubble. This is then at the right temperature so add the rest of the onions and fry for around 10-15 minutes until they start to go a little golden.

Add the chopped chilli and fry for another 4-5 minutes until they start to crips up a little. Add the chopped garlic and ginger and continue to cook for another 4 minutes. Watch it carefully as it can burn easily. The onion should be quite crispy looking by now.

Take the pan off the heat and allow to cool for a couple of minutes, add the sesame oil and the miso paste, stir well to combine.

Add the sesame seeds and a good pinch of chilli flakes (optional).

Store in a clean jar and cool completely. Refrigerate and use on everything!
TOP TIPS
If time is short use a blender for the chopping as it cuts down the time nicely.
By using mild red chillies you can control the heat which is great for children and adults alike.  I like to add a big pinch of chilli flakes to take the heat up for our family but completely optional.
The oil can be stored in the fridge for a couple of months - if it lasts.  We are having it on cold roast chicken and ham almost daily and it disappears rather quickly.  We added it to egg sandwiches this week and also smothered a bowl of roasted vegetable and herbs in it, it was fabulous.  A perfect lockdown accompaniment.
Adapted from a recipe by Antonina Parker