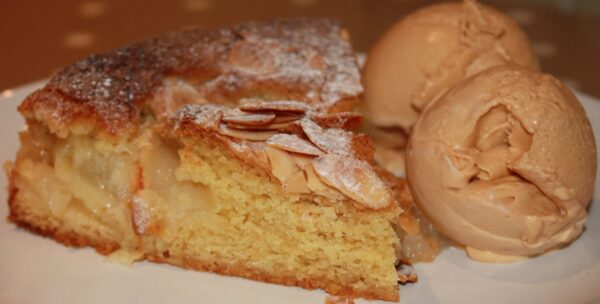 | | |
| --- | --- |
| | |
Preheat the oven to 160°C, fan 140°C, 320°F, gas 3. Lightly grease a deep 20cm loose-bottomed cake tin and line the base and side with baking parchment or use a cake tin liner.

Measure the flour, baking powder, sugar, eggs, almond extract and melted butter into a bowl or magimix, mix well until blended, then beat for a minute.

Spread half this mixture into the tin and lay the thickly sliced apples on top of the mixture, piling mostly towards the centre. Roughly spoon the remaining mixture over the apples. This might be a little sticky but just make sure the centre is covered as it will spread out while in the oven. Sprinkle with flaked almonds.

Bake on the grid shelf on the lowest set of runner in the Baking Oven for about 45minutes - 1 hour until a skewer comes out clean. If the cake is getting too brown slide in the cold plain shelf above the cake. To cook in a conventional oven, preheat as above and cook the cake for approx 1 hour until golden and shrinking away from the sides of the tin.
TOP TIPS
The apples can be windfalls or even shrivelled ones left in the fruit bowl. Serve warm with ice cream or crème fraîche as a pudding.
Best made to serve warm but can be made the day before and once cooked and cold, you can wrap and freeze it for a maximum of 3 months.
Reheat by putting on a plate, cover with cling & put in a low oven (100-110C) or the simmering oven of an Aga for 1 hr. To cook in a 2 door Aga, use the Roasting Oven with the grid shelf on the floor and the cold plain shelf on the second set of runners and cook for about 20 minutes until starting to turn golden. Then transfer the plain shelf to the middle of the Simmering Oven and put the cake on the shelf and bake for a further 30-40 minutes until the skewer comes out clean.
Adapted from a recipe by Mary Berry.