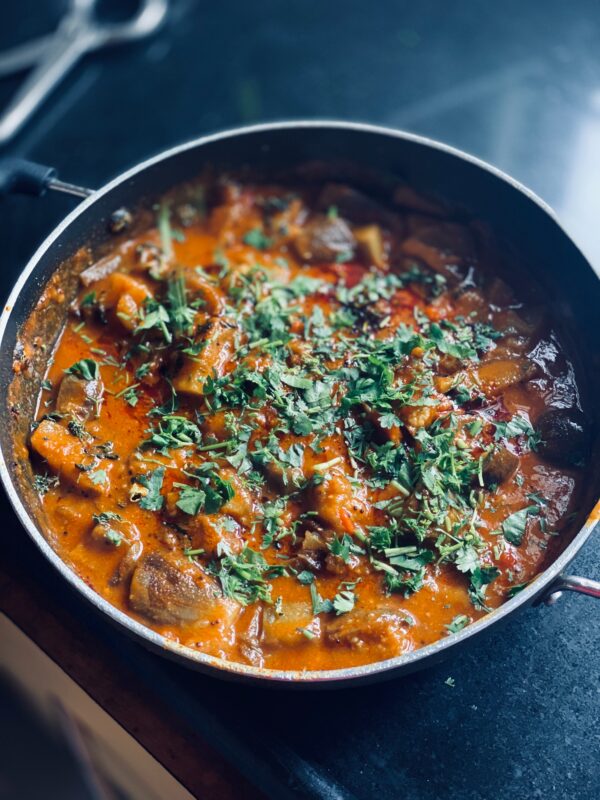 | | |
| --- | --- |
| | |
Preheat the oven to 150C / fan 130C / Gas 2

Place the flour on a plate and season generously. Toss the beef in the seasoned flour. Heat 3 tbsp. oil in a large casserole dish over a high heat and brown the beef in batches. Add a little more oil if needed for each batch and place the browned beef to the side. Keep any remaining flour.

When all the beef is browned, add another tablespoon of oil to the pan and fry the onion wedges over a medium heat until they colour slightly, around 5 minutes.

Add the ginger, garlic and chilli and cook stirring until soft and fragrant. Add the remaining flour and cook for another minute or so. Add the sugar, then the beef and carrots, stir until combined. Keep the heat high, then splash in the rice wine or sherry, scraping up any meaty bits.

Combine the lime juice, soy and stock together. Pour into the pan adding the cinnamon sticks and star anise. Bring to a simmer, then tightly cover, transfer to the oven and cook for 1½-2 hrs, stirring the meat halfway through. The meat should be very soft, and any sinewy bits should have melted away.

Add the mushrooms, 30 minutes before the end of cooking time. Serve with steamed brown rice with a squeeze of lime, topped with spring onions and coriander and some greens on the side.
TOP TIPS
As the weather turns it is great to have a stew to hand and this stew livens up cheap cuts of meat with fragrant spices and gives a nod to Asian influences.
Serve with plenty of rice to soak up the juices and some steamed or stir fried pak choy on the side.
When stewing, look for meat marbled with good streaks of fat and sinew throughout – these will break down during slow cooking and give you the most tender meat. If you can get it, ox cheek is fantastic value and rich in flavour – also perfect for this dish.
The stew keeps in the fridge well for 3 days and freezes very well for a month.  Make double and freeze half.  Add a little bit of water or beef stock when reheating.