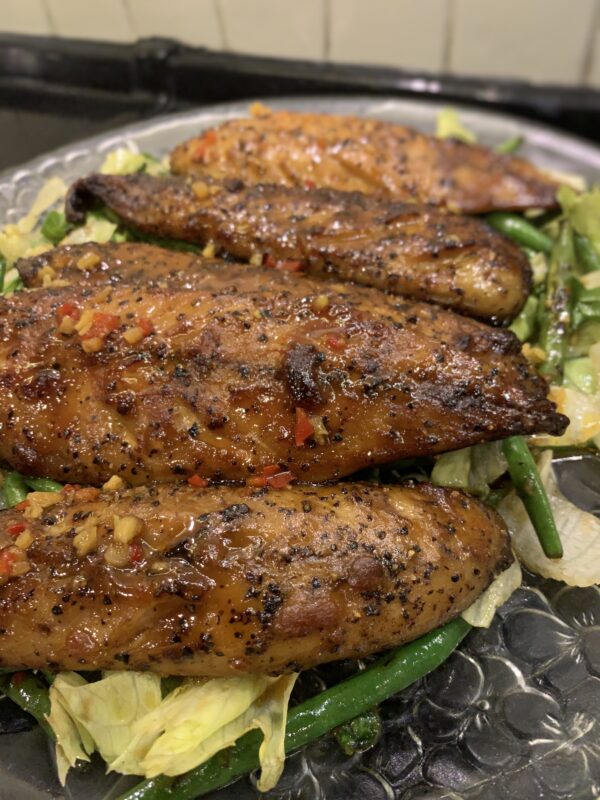 | | |
| --- | --- |
| | |
Make the dressing first: put the sugar and vinegar in a small pan and heat gently until the sugar dissolves. Take off the heat and add the chilli and ginger. Transfer to a clean jam jar and, once cool, stir in the soy, sesame and rapeseed oil. Give it a good shake and set aside.

Put a griddle over a high heat. Toss the broccoli with the sesame oil and half a tablespoon of soy until coated. Lay it out on the hot griddle and cook on all sides until it is nicely charred but still has some bite to it (don't let it go floppy!). If you don't have a griddle use a frying pan.

Meanwhile, heat the grill to medium. Beat together the remaining tablespoon of soy, the honey and the miso paste, then rub the mixture all over the mackerel fillets. Put these, skin side down, on a baking sheet lined with parchment. Grill for three to four minutes until warmed through, brushing over any remaining marinade during the cooking.

While the broccoli is still warm, toss it with the watercress and chicory leaves and half the dressing. Transfer to plates, top with the mackerel fillets and spoon over the remaining dressing. Drizzle the horseradish over the top if you are using it, then serve right away with very fresh bread.
TOP TIPS
If you are not a mackerel fan then use the ready cooked salmon fillets readily available at the supermarkets - you could even use the sweet chilli salmon fillets or honey roast ones that supermarkets have.  If you don't have tender stem broccoli use some French beans - as I did in the image.
Make the dressing well in advance to get ahead and use on other Asian salads.
Adapted from a recipe by Thomasina Miers in the Guardian