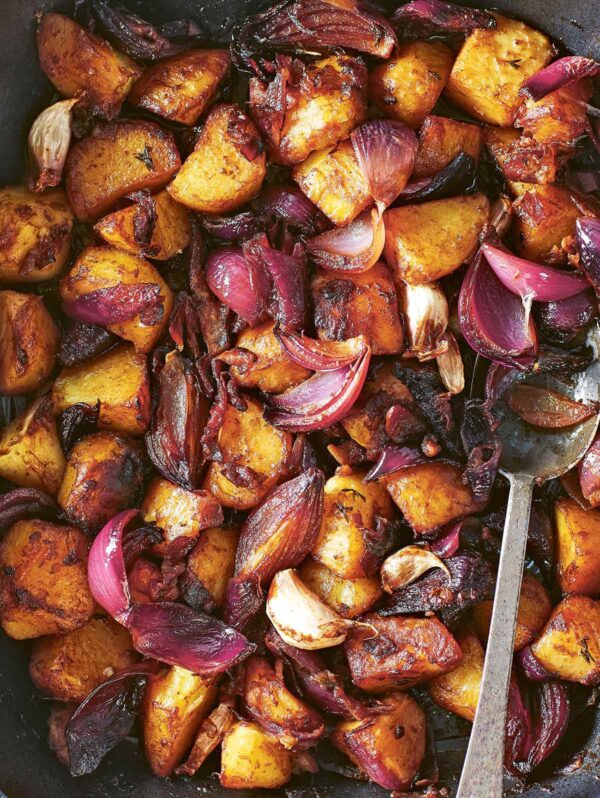 | | |
| --- | --- |
| | |
Preheat the oven to 180 C / Gas 3.

Place the potatoes in a large pan. Cover with water and add 1 tsp salt. Place over a high heat, bring to the boil, then add the garlic cloves and boil for 2 minutes. Drain the potatoes and the garlic and leave in the colander to cool to room temperature.

Heat a large nonstick frying pan on a medium heat. Reduce the heat to low and add the butter, onions and pancetta. Cook for 10 minutes on a low heat, until the onions have softened. Add the balsamic vinegar and thyme, increase the heat and cook for 2-3 minutes, until syrupy. Remove from the heat and place the mixture in a large bowl. Add the blanched potatoes and garlic, season with salt and pepper and mix well.

Coat the base of a roasting tin with the oil. Tip in the potato mixture and roast for 30 minutes, giving the tin a shake halfway through cooking so that the balsamic and butter coats the potatoes and onions. After 30 minutes, everything should be nicely caramelised.

Remove the tin from the oven and, using a spoon, toss the potatoes around the tin to soak up all the juices. Serve as a side dish for roasted meat.
TOP TIPS
To make ahead, par boil the potatoes and garlic leave to cool.  Cooks he onions and pancetta, add the balsamic and thyme remove and cool.  When ready to finish, reheat the onion and vinegar mixture and add the potatoes and continue as above.
These potatoes are wonderful with lamb  - roast, grilled or butterflied.  They are a marriage made in heaven!  Add a little salsa verde for an extra wow.
Recipe Theo Randall