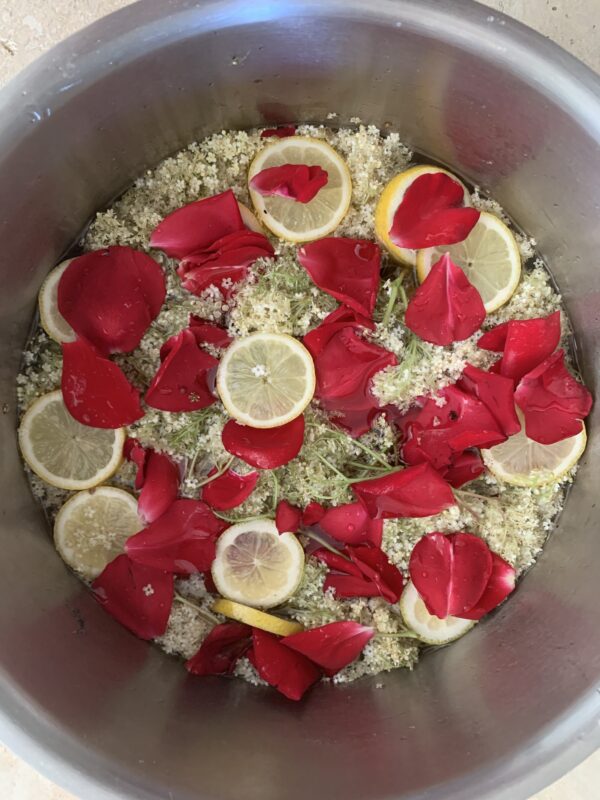 | | |
| --- | --- |
| | |
Gently shake the elderflower heads to get rid of any bugs. Don't wash them as you loose all the fragrant pollen.

Put the sugar and 1.5 litres of water into a saucepan and bring to a boil, stirring from time to time to help the sugar dissolve. Once boiling remove from the heat and allow to cool slightly.

Slice the lemons thickly. Add the elderflower heads, the sliced lemons and the rose petals to the sugar syrup. Stir in the citric acid.

Cover with a clean dry cloth and leave in the fridge or a cool, dark place for three days. Every so often give it a mix especially if you are using the rose petals.

After three days sterilise some bottles (you can put these in a low oven for 1 hour) then taste the cordial and see if you would like it a bit more tart and if you do add a little bit of lemon juice. Check that the cordial is now a pink blush colour and if it isn't leave for one day more.

Strain the cordial through a muslin into a large jug. Pour this into warm, sterilized bottles and seal. Leave to cool and keep in the fridge where it will last for about six weeks. If you want to keep it longer pour into plastic bottles (leaving room for expansion) and place it in the freezer.
TOP TIPS
Try to pick the elderflowers when they are big and blousy and have had some good sun on them.  Don't pick first thing in the morning as they are just not as good for making cordial and if they have had some sun on them it makes for a more fragrant cordial.
If you want to make the cordial pink then use red rose petals as they impart their colour more effectively.  I have tried it with pink roses and you just don't get the blush colour - it is much lighter and when diluted disappears.  If you don't want to use them just leave them out.
The season for Elderflowers is short and it freezes really well so I make enough to last me the year.   I collect 500ml or 1 litre plastic bottles over the year and then freeze the cordial in those plastic bottles and pull out when needed.
I do use white sugar here as golden granulated makes the cordial a golden honey colour but I prefer a clearer cordial.