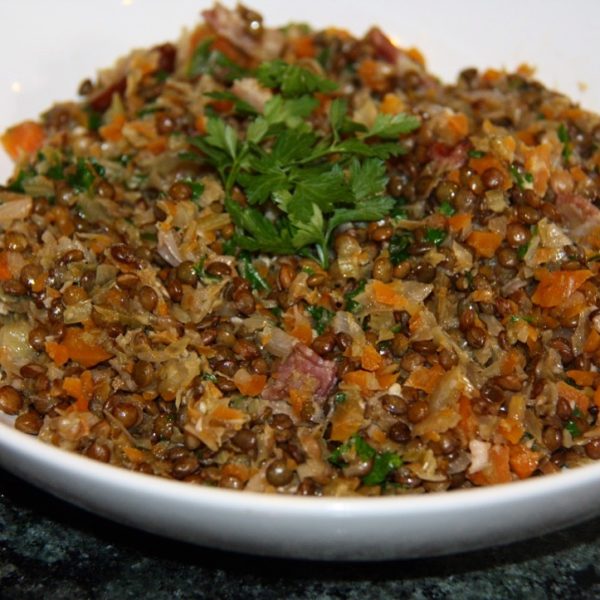 | | |
| --- | --- |
| | |
Wash the lentils, strain and put into a pan. Cover with fresh cold water and add the carrot, leek, thyme, bay, shallot, garlic, pancetta and a pinch of salt. Slowly bring to a simmer and simmer for 15 – 20 minutes until tender. Be sure to check frequently to make sure they do not overcook. Drain the lentils reserving the cooking liquor and pancetta but discard the other vegetables. Allow the lentils to cool on a tray and dice the pancetta

Fry the pancetta and bacon in a 1 tbsp. oil and add the crushed garlic, celery, carrot, leeks and onion. Sweat down for 10 minutes. Add the lentils along with either 200ml of red wine or the cooking liquor. Reduce until almost dry, tasting the lentils to ensure they are still nice and moist.

Stir in the herbs and Dijon and season to taste. Serve piled on a plate with a green salad.
Top Tips
Serve with cold ham, roasted meats, fish with salsa verde or just by themselves with a green salad. These are super versatile, and you can make them in advance up to the end of point 4, reheat gently adding some liquid (water, stock or wine) if needed and then add the herbs and Dijon. Remains can be warmed through for a second go, I sit them on the back of the Aga to warm through.