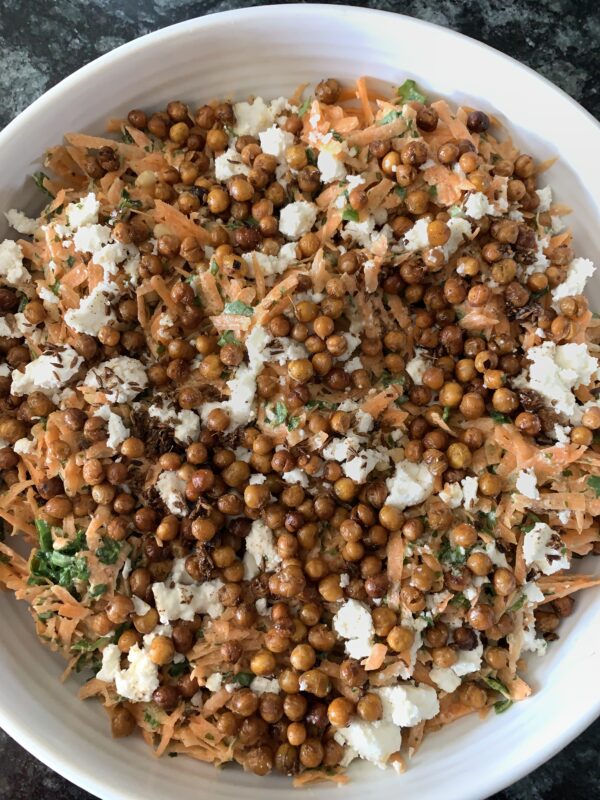 | | |
| --- | --- |
| | |
Heat the oven to 230°C / 450°F / gas mark 7.

Toss the chickpeas with the olive oil, salt, ground cumin, cumin seeds and chilli flakes until they are evenly coated. Spread them on to a baking sheet and roast them in the oven or the roasting oven of the Aga until they are browned and crisp. This can take from 20 – 30 minutes depending on size and firmness of your chickpeas. Toss them occasionally to make sure they are toasting evenly and when ready set aside until needed.

To make the dressing whisk all the ingredients together until smooth, adding more water if needed to thin the dressing slightly. Taste and adjust the seasoning if needed.

To assemble the salad, place the grated carrots in a large bowl and mix in two thirds of the dressing adding more if desired. Toss in the herbs, sprinkle the chickpeas over the salad, mix and place on large platter. Crumble the feta over the top, mix the chopped pistachios with the salt and sprinkle over the salad and serve immediately.
TOP TIPS
Use the toasted chickpeas like croutons and add them to lots of salads for crunch or use them as a snack as they are really moorish
To prep ahead, prepare all the elements but do not assemble. Refrigerate and assemble from point 4 just before serving so that the chickpeas and pistachios don't go soft. This is a great salad to go with BBQ'd meat or even just with warm pitta. Or serve with a green salad for a veggie option but keep the chickpeas separate and sprinkle them on as croutons before you eat it.
The salad keeps well in the fridge for two days, however, I would add the chickpeas and pistachios right before serving, so they don't get soft.
I love Tahini in dressings but this versatile sesame paste adds a mild, nutty flavour and depth to lots of things I cook, without overpowering other ingredients. The best tahini has a silky-smooth texture that works wonders in sauces, salad dressings, smoothies, soups, brownies, and of course hummus. However, not all tahinis are equal. I tend to go for a light smooth one with a Middle Eastern provenance but I would suggest trying to find one that is not too bitter and claggy and the lighter ones are easier to use. I use Al Taj from Sous Chef www.souschef.co.uk for its velvety texture, with a slightly sweet and wonderfully nutty flavour.
If you don't have tahini make a lemon olive oil dressing using some garlic and honey as above and maybe add some Greek or plain yoghurt for the creaminess.