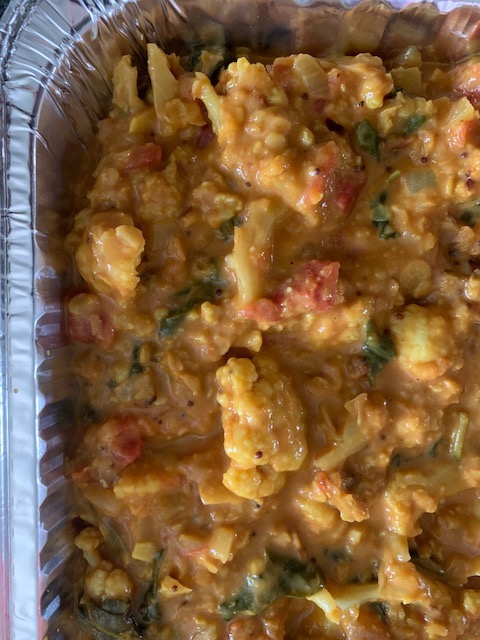 | | |
| --- | --- |
| | |
In a heavy based pan heat the olive oil and add the spices, garlic, ginger and chilli and cook for a few minutes until the spices begin to release their aroma.

Add the finely chopped onion and fry for 5-7 minutes until the onion starts to soften. Add the cauliflower florets, followed by the tomatoes, coconut milk, stock and red split lentils. Season. Bring to the boil, turn down the heat, cover and simmer for approx. 30 minutes or until the cauliflower and lentils are cooked through.

Take the dahl off the heat and stir though the spinach and the juice of the lemon. Taste and season. Serve with a dollop of yoghurt and extra lemon juice if needed.
TOP TIPS
If you can't get a cauliflower then use two tins of chickpeas as a subsitute.  If fresh spinach is scarce then add a few blocks of frozen leaf spinach for the last 5 minutes of cooking and stir to combine through the dahl.  Frozen leaf spinach is a great freezer essential and definitely worth trying to source.  If you don't have any spinach then leave it out or mix some chopped coriander in (I have bought some frozen packets so grab a handful and throw it in).
I have recently chopped lots of fresh ginger, open frozen it and then stored it in bags in the freezer to pull out when needed and it also means I have a ready supply when I need it and supplies are short.
If you can't get a can of coconut milk use a tin of coconut cream or creamed coconut (blocks) as they might be more available.  Always check on the back of coconut milk cans to see the percentage of coconut and go for the highest possible - they can range from 45% up to 80%, the higher the better and try not to go for low fat options as they add all sorts of things to bulk it out.  If you are doing an online shop or a supermarket shop then pop a few tins of coconut milk in your trolley as they are super useful for dahls and curries which are quick, easy and nourishing.
Online suppliers - try Amazon for hard to find store cupboard ingredients including coconut milk, lentils, dried and canned pulses.  Local delis have pulses and spices (can be a little more expensive).  Thai and Indian food suppliers online do excellent coconut milks, dried pulses and pulses in cans also check out health food shops online for store cupboard supplies.  My favourite online supplier Sous Chef www.souschef.co.uk has all sorts of fab ingredients including excellent coconut milk called Chaokoh.  Hatton Hill Organics have good hard to find pulses, lentils, rice etc.  Best to try and search for slightly different rices if they are scarce - red camargue rice or the black venere rice for example, more expensive but excellent.
Lentils.  I have a good supply of lentils in my cupboard and add them to stews, soups and salads.  I have red, yellow and Puy at the moment and again source lots online where you can buy them in bulk and not have to search high and low in the supermarket.  Again search for yellow split or chana dal.
If you want to make this meat friendly then you can serve with a roasted chicken breast and use chicken stock.
The dahl can be frozen for up to 3 months.
Adapted from a Madeline Shaw Recipe