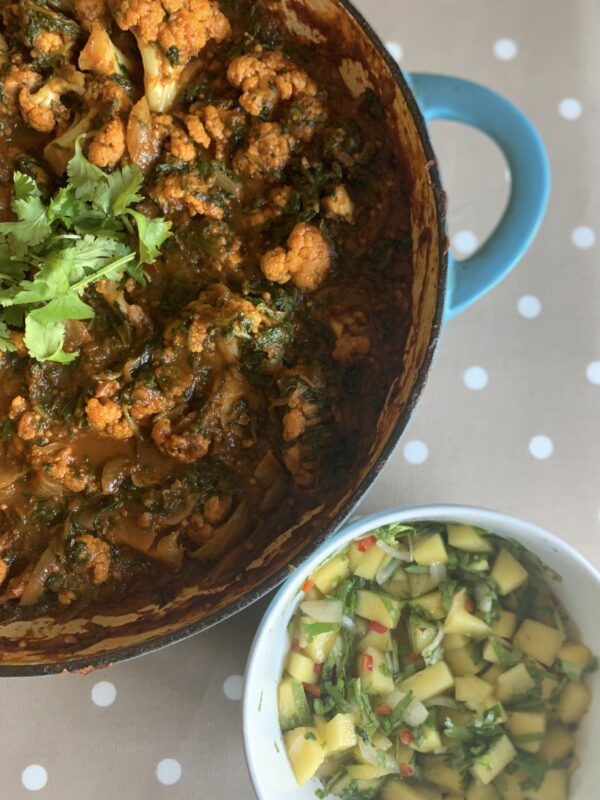 | | |
| --- | --- |
| | |
Put the coriander, cumin, fennel and dried chilli in a small dry frying pan and dry fry shaking often over a medium heat until fragrant. Tip them into a mortar or spice grinder and pound / process until fine. Put the quartered onion, garlic, ginger and halved green chilli in a blender or food processor and purée until smooth.

Heat the oil in a large heavy based saucepan and add the sliced onion and the puréed onion mixture and fry over a medium heat until soft and golden around 10-12 minutes. Add the ground spices, turmeric and mustard seeds and cook for a couple more minutes until the mustard seeds begin to pop.

Add the passata, fresh tomatoes, tamarind paste, coconut cream and stock and bring to the boil . Season and add a good pinch of sugar. Add the cauliflower and reduce the heat to low and simmer for around 25 minutes until the cauliflower is tender. 10 minutes before the end of cooking time add the frozen spinach and allow to cook through. If adding fresh spinach add in the last 5 minutes.

While the cauliflower is cooking make the mango chutney. Combine the chopped mango, green chilli, red onion, lime juice and cumin in a small bowl with a pinch of salt. Stir to combine and place in a serving bowl.

When the cauliflower is knife tender, add the chopped coriander and a squeeze of lime, serve immediately with the sliced green chilli, steamed rice and the fresh mango chutney.
TOP TIPS
To get ahead make the curry base a couple of days before but don't add the cauliflower.  Cool the base and refrigerate.  To serve, reheat and once the sauce comes to a simmer add the cauliflower and cook until tender as above.
This is fabulous with prawns as well.  Make the base as above and cook for around 20-25 minutes so it thickens up.  Then add 600g raw king prawns (peeled and deveined), simmer and stir gently until the prawns turn pink and serve immediately.  The base would also work well with chicken and white firm fish (cod, pollack, haddock etc), it is a great curry base for veggie or meat options.  You could even add tinned chickpeas for another veggie option.
I like to serve this with a coriander naan as well as the chutney.
The base freezes beautifully so I like to make double and pop half in the freezer to pull out and add fish, chicken or veggies as suggested above.