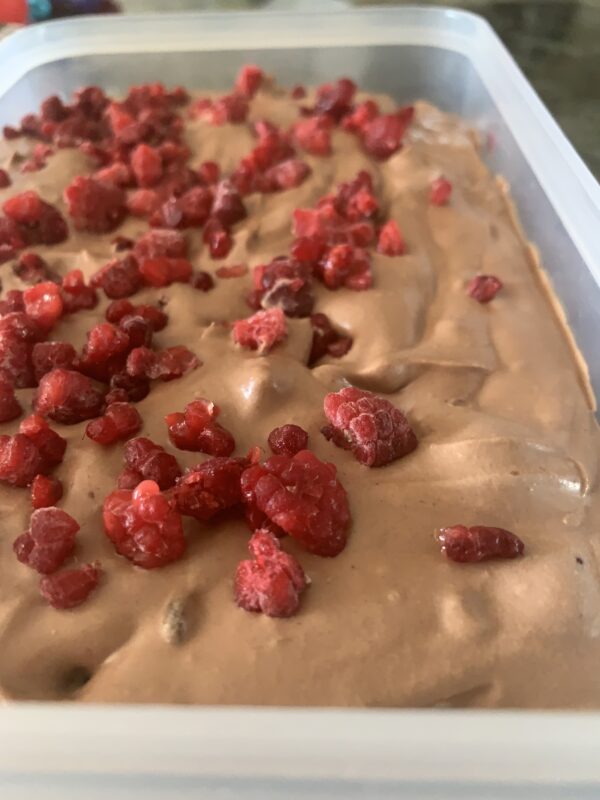 | | |
| --- | --- |
| | |
Put the condensed milk into a large bowl add the salt and vanilla paste, mix to combine

Add double cream and beat the cream and condensed milk together using electric beaters until the mixture is thick and billowing.

Stir in the melted chocolate, give it a quick whisk to combine and then gently fold the chocolate chips into the mixture followed by the frozen raspberries.

Spoon into a freezable container (a loaf tin does nicely), cover and freeze until solid – this will depend on your freezer, but six to eight hours is a good bet. Overnight is good if you have time.

This ice cream becomes very firm, so you need to take it out of the freezer about 20 minutes before you want to serve it.
TOP TIPS
This ice cream is indispensable for having to hand when you need a quick pudding and is seriously versatile using the base of the condensed milk and double cream.
Swap the tin of condensed milk for a tin of caramel, add the vanilla, salt and another pinch of salt and you have salted caramel ice cream.
Fruit Ice creams - take 250g of any fruit, make a puree with a little sugar and add to the cream and condensed milk base. Make blackcurrant, strawberry, raspberry or even mixed fruits.
Add 2 tbsp. of instant espresso powder to 2 tbsp. of boiling water, grind the seeds from 10 green cardamom pods, leave to cool and then add to the condensed milk and cream base and continue for a spiced coffee ice cream.
Be inventive and add things like stem ginger, spirits (rum, whisky etc), nuts to the base - the possibilities are endless!