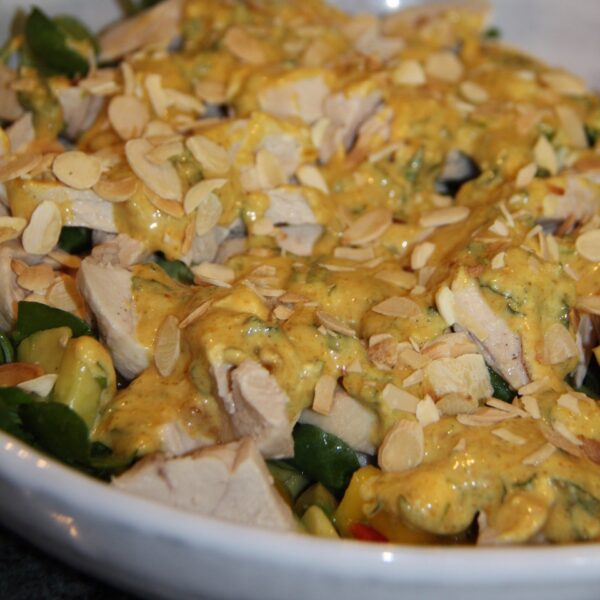 | | |
| --- | --- |
| | |
In a dry frying pan, briefly toast the spices over a low heat until they start to release their fragrance. Tip into a bowl and gently mix all the ingredients for the dressing together, except the chilli sauce. It should be the thickness of double cream but with chunks in it as it has the mango chutney in it. Taste for seasoning and add the chilli sauce if using.

Peel the mangoes and cut the 'cheeks' off, cutting really close to the stone. Cut them into even thick slices or chunks.

Halve the avocados, remove the stones and cut the flesh into slices then peel. Spoon over some of the lime juice to keep it from discolouring and season.

Gently toss the salad leaves with the mango, avocado, chopped chilli and remaining lime juice and olive oil. Season to taste.

Cut the pre-cooked chicken into neat slices and season, put into a bowl and mix the chicken with half the dressing. Put the salad on a pretty serving platter and arrange the chicken onto. Drizzle some of the dressing over the salad and scatter the almonds on top. Serve the rest of the dressing in a jug.
Top Tips
To prepare ahead make the sauce a day in advance but do not add the mint leaves.  Toast the almonds and cook and slice the chicken.  When ready to serve add the mint leaves to the sauce, prep the avocado and mango and put the salad together as above.
Coronation Chicken is always a popular dish and this is a revamped version of a classic and a lovely spring or summer lunch. Maybe serve with a bowlful of wild brown rice dressed with some vinaigrette.
If you can get Alfonso mangoes (in season April -June) grab them when you see them as they give a fragrance to this dish, which is hard to beat.
Adapted from a recipe by Diana Henry from Bird in The Hand