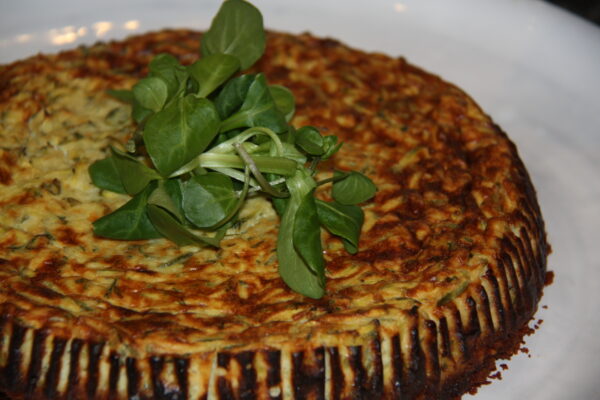 | | |
| --- | --- |
| | |
Heat the oven to 170°C / 325°F / gas mark 4 and grease and line a loose bottomed 23cm cake tin with a cake liner.

Grate the courgettes using a food processor with a shredding disc or a good handheld grater and combine the courgettes and salt in colander or sieve and let sit for at least 15 minutes. Then use your fingers or a spoon to press out as much moisture as possible.

Melt the butter in a small pan and stir in the crushed biscuits and parmesan.

Press into the prepared tin, bringing slightly up the sides and leave to one side

Heat the oil in a large frying pan and add the shallots and garlic. Fry for two minutes and then add the courgettes and fry until just tender. Drain in a colander.

Combine the two cheeses in a large mixing bowl and beat until smooth. Add the egg yolks, Parmesan, mustard, herbs, lemon zest, courgettes and mix until combined.

In a separate bowl whisk the egg whites until stiff and combine into the courgette mix folding in with a metal spoon.

Spoon into the tin and bake in the preheated oven for approx. 45-55 minutes. If cooking in the Aga place in the middle of the baking oven for approx. 40-45 minutes. Cover loosely with foil if starting to brown too much.

Test with a skewer and when cooked leave in the tin to cool so it sets and serve either warm or at room temperature.
TOP TIPS
Make up to one day ahead, cool, cover and refrigerate. Bring to room temperature before serving or place on the back of the Aga until warm
This is a great dish to use up courgettes and also to prepare ahead for a summer lunch. I serve it with a watercress salad and a piece of crusty bread for an easy lunch.