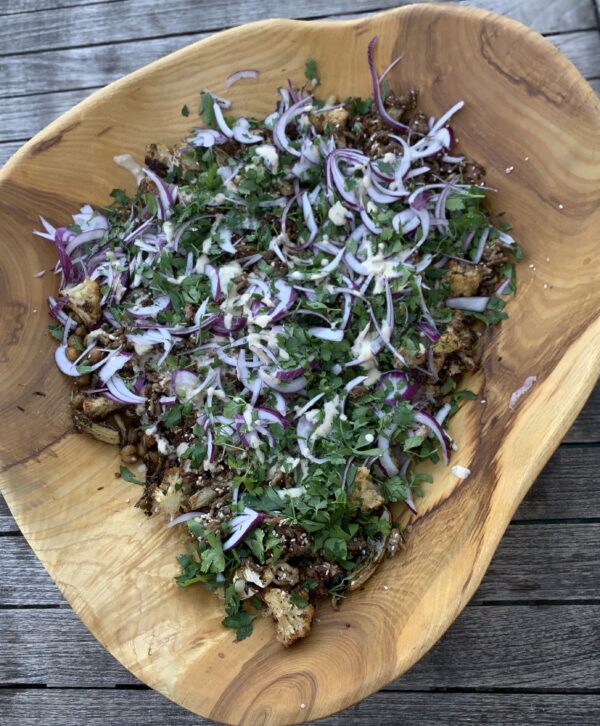 | | |
| --- | --- |
| | |
Preheat the oven to 200C / 180C fan / gas 6

Cut the cauliflower into florets reserving the leaves and cutting the stalks into slices. Place all in a large lined ovenproof tray. Drain the chickpeas and add to the cauliflower.

Mix the oregano, cumin, cinnamon and chilli flakes with a good pinch of salt and a grind of pepper in a small bowl. Drizzle the cauliflower and chickpeas with the olive oil and sprinkle over the spice mix. Toss to coat the cauliflower.

Place the tray in the preheated oven and roast for around 40 minutes until the cauliflower is starting to turn golden and the chickpeas have crisped up.

While the cauliflower is roasting cook the lamb. Take a large non stick frying pan and add a splash of olive oil on a medium heat. Add the lamb, break it up and stir fry for around 10-15 minutes stirring often until brown and crispy. Add the sesame seeds for the last 5 minutes. Set aside.

Take the dates and the garlic and put into a blender. Add the tahini and yoghurt and the juice of two lemons. Blend until you get a smooth sauce adding a little bit of water if the sauce is too thick. Taste and season.

Take the finely sliced onion and place in a bowl with the roughly chopped parsley. Add the remaining lemon juice and toss it all together.

When everything is ready get a large platter. Spoon half the sauce onto the platter, add the cauliflower, chickpeas and the warm lamb. Then sprinkle over the onion and parsley and drizzle some of the remaining sauce over the plate. Serve immediately with flatbreads and the remaining sauce in a bowl on the side .
TOP TIPS
To get ahead, prep the cauliflower and chickpea tray so it is ready to go into the oven.  The lamb can be cooked in advance and heated up to serve.  The onion and parsley can be prepped (don't add the lemon juice) and the sauce made well in advance.  Then all you need to do is cook the cauliflower, reheat the lamb and plate up.
This is completely delicious with large amounts of flatbreads but as per usual with my hungry teenage boys I have to double the recipe!
Adapted from a recipe by Georgina Hayden