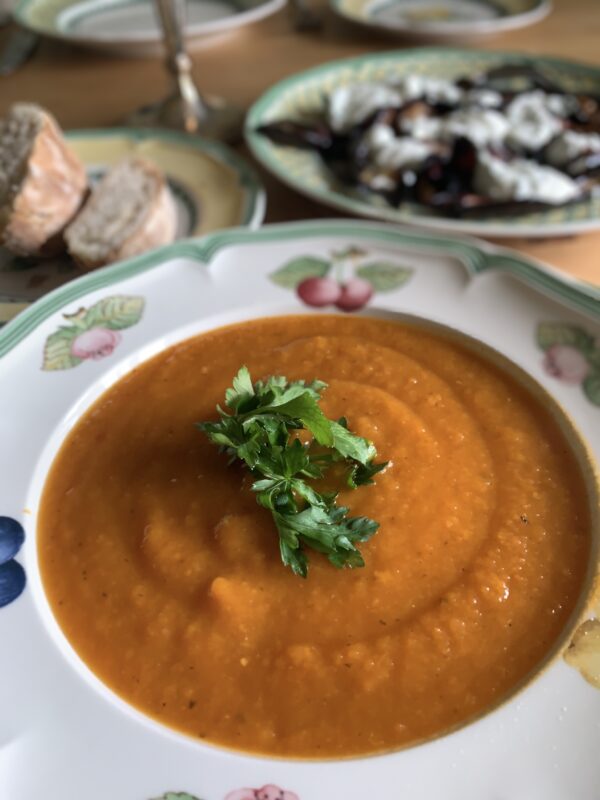 | | |
| --- | --- |
| | |
Preheat oven to 200°C / fan 180°C / gas 6

Take a good size baking tray and line with a non stick baking sheet. Place the cut squash on the baking sheet and drizzle over 2 tbsp. olive oil, toss to combine. Sprinkle the crushed garlic and thyme leaves over the squash. Roast in the preheated oven until the squash is tender and colouring around the edges, about 40-45 minutes.

When cool, scoop out the flesh and reserve, along with the roasted garlic, thyme and any oil. Discard the squash skins. This can be done the day before, cover and chill until needed.

Heat remaining 1 tbsp. olive oil in a large heavy pot over a medium heat. Add the onion and cook until softened, about 10-15 minutes. Add the roasted squash, garlic and thyme, stir to coat. Add the tomatoes and stock; bring to a boil. Season and reduce the heat and simmer for around 20 minutes.

Either blitz the soup in the pan with a handheld / stick blender or whizz in batches in a food processor or blender, until smooth. Add a little more stock if it is too thick. Gently reheat until just simmering. Remove from the heat and season to taste. Serve with hunks of fresh bread (or croutons) and a swirl of cremé fraîche.
TOP TIPS
By cutting the squash into chunks and roasting it in its skin you don't have to try and peel the squash which can be time consuming.  You just scoop the flesh out when it has been roasted, much easier!  The squash. garlic and thyme can be roasted 1 day ahead. Cover and chill until needed.
This soup freezes very well so double the recipe and freeze half for a chilly day.