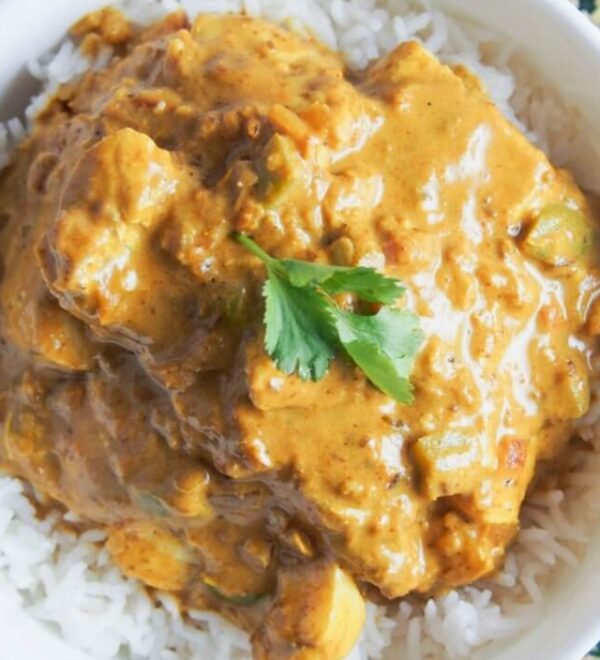 | | |
| --- | --- |
| | |
Heat the vegetable oil in a medium saucepan. Add the chopped onion and mustard seeds and cook over a low to medium heat for about 8 minutes, until the onion is soft and light golden in colour, then turn up the heat and cook until golden

Peel and grate the ginger and add to the pan, then add the ground cumin, coriander, turmeric, garlic and chillies. Cook, stirring frequently, for a minute or so, until the aroma of the spices is released.

Add the tamarind paste, curry leaves, palm sugar, chopped tomatoes and coconut milk to the pan. Bring to the boil, and then simmer gently for about 15/20 minutes, until thickened slightly. Season to taste.

Tip the fish and prawns into the pan and cook for 5/6 minutes. When the fish is just cooked – it should be opaque – remove from the heat. Serve at once, accompanied by steamed rice and scattered with the coriander.
TOP TIPS
Make the sauce up to two days in advance, reheat and add the fish to finish.  You could use monkfish to make a more luxurious curry or use chicken thigh for a meaty option as the sauce goes very well with chicken.  You could also just use prawns, it is very adaptable.
If you don't have or can't get tamarind then use a mixture of lime juice and brown sugar until you get a paste that is both sweet, sharp and tangy erring on the side of sour and add that to the base.  If you don't have lime use lemon.  Another substitute could be pomegranate molasses if you have a bottle lurking.
Serve with basmati rice simmered in half coconut milk, half water with a stick of cinnamon and a bay leaf for extra flavour.