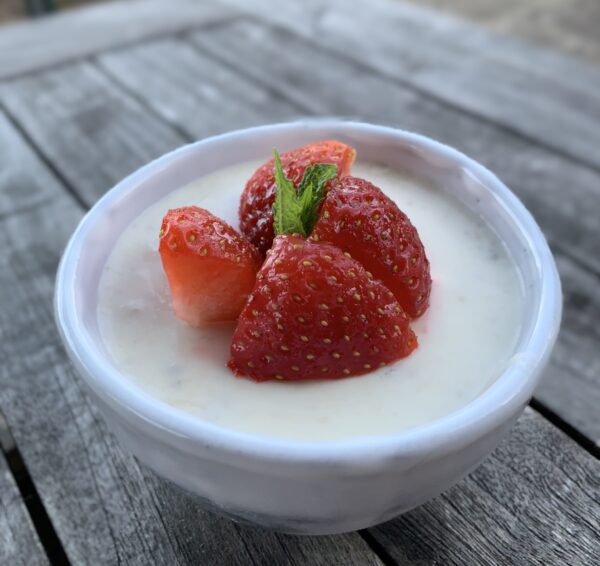 | | |
| --- | --- |
| | |
For the gooseberry creams, place the gooseberries into a large, heavy-based saucepan, sprinkle over the sugar and pour in the elderflower cordial.

Bring the mixture to a simmer and simmer, uncovered, for 20-25 minutes, stirring regularly to prevent the mixture catching on the bottom of the pan. Set aside to cool slightly. Blend the cooked, cooled gooseberries in a food processor or a handheld blender to a smooth purée.

Heat the milk over a gentle heat in a separate saucepan. When the milk is hot, drain the gelatine leaves, squeeze to remove any excess liquid and add them to the milk, whisking until dissolved. Remove the pan from the heat.

Spoon 225ml of the gooseberry purée into a measuring jug. Whisk the gooseberry purée into the hot milk, then whisk in the yoghurt until well combined.

Divide the mixture equally among four ramekins. Cover each ramekin with cling film and set aside to cool completely, then chill in the fridge until set. When set, the gooseberry creams should wobble slightly when tapped.

Halve the strawberries and place in a small bowl and stir in the elderflower cordial to coat, leave for an hour or so to macerate.

When ready to serve place the strawberries prettily on top of the ramekins with a sprig of mint for decoration.
TOP TIPS
These puddings can be made a day ahead, covered and refrigerated.
The creams are great made with blackcurrants but keep an eye on the amount of gelatine as blackcurrants have high levels of pectin so you need to take the gelatin down by one leaf. I have also made them with strawberry purée as well which was delicious