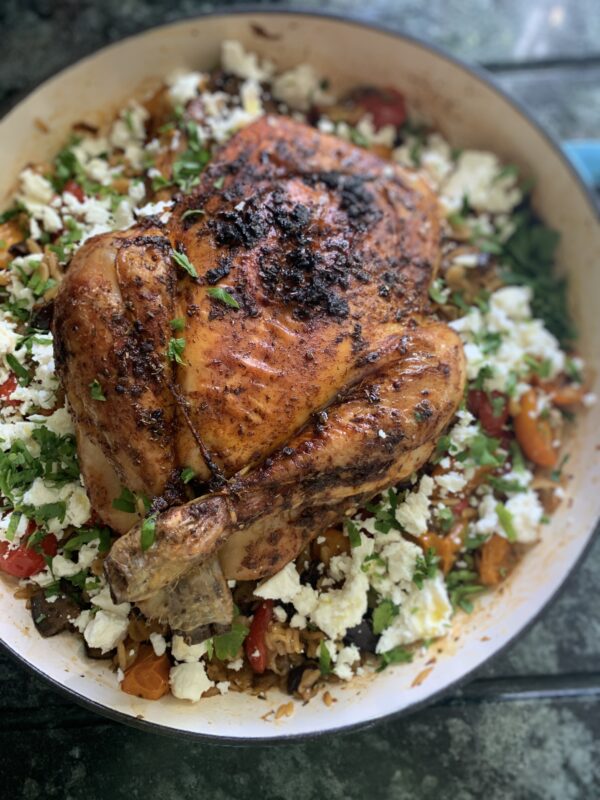 | | |
| --- | --- |
| | |
Preheat the oven to 200°C / 190°C fan / gas mark 6.

Put the chicken into a large ovenproof dish. Mix half the olive oil, garlic, half the dried oregano, some seasoning and the paprika in a small bowl.

Rub this all over the chicken massaging into the breast and legs.

Mix the aubergine with the remaining olive oil and oregano, season well. Scatter this around the chicken in the roasting tray

Roast in the preheated oven for 50 minutes.

Sprinkle the orzo around the chicken and pour on the boiling stock mixing well with the roasted aubergines. Add the tomatoes and mix to combine. Return to the oven for a final 20 minutes. Check during this time to make sure the orzo isn't becoming dry: there should be enough stock but if it looks a little dry top it up with a small amount of boiling water.

The chicken should then be cooked: check by piercing it deeply between the leg and the body, the juices that run out should be clear, with no traces of pink. The orzo should be tender and the stock should have been absorbed.

Lift the chicken out of the tray onto a serving board. Gently stir the feta and chopped herbs into the orzo and serve the chicken carved on top of a pile of the orzo mix and a green salad or roasted red peppers on the side.
TOP TIPS
This is a great way to spice up a roast chicken and cook everything in one tray.
You can swap the aubergines for red peppers but they will not need 50 minutes roasting probably 20 mins so add them after roasting the chicken for 30 mins.
A fresh green salad goes really well with this as do roast red and yellow peppers.  I often use jarred red peppers, finely sliced and drizzled with good olive oil and seasoning.
Adapted from a Diana Henry Recipe