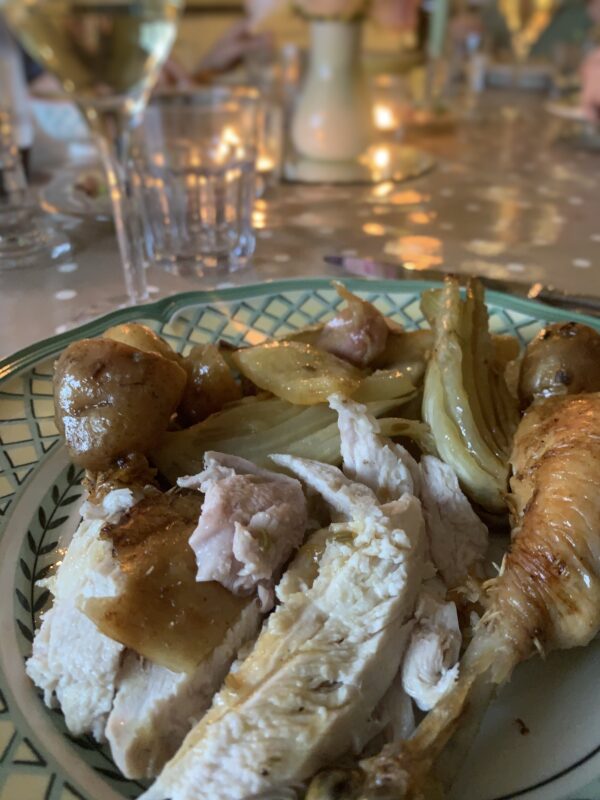 | | |
| --- | --- |
| | |
Heat the oven to 220C / 200C fan / gas 8. Remove the chicken from the fridge, thirty minutes or so before cooking to take the chill off it.

Heat 30g butter and the olive oil in a large casserole (large enough to fit the chicken) over a low-medium heat. Add the shallots and fennel seeds and cook, stirring, for around 10 minutes until they start to colour.

Add the new potatoes, the chopped lemon, the lemon zest, the fennel, the garlic and bay leaves. Season well and cook for 10 minutes.

While the vegetables are cooking prepare the chicken. Take the chicken and rub liberally with salt and season the cavity. Fill the cavity with the thyme, rosemary, garlic cloves, lemon halves and smear the chicken with the remaining 30g of butter.

Take the vegetables off the heat and make a well in the middle. Place the chicken on top of the vegetables and place into the preheated oven uncovered for 20-25 minutes.

Take the chicken out of the oven and turn the oven down to 200C / 180C fan / gas 6. Add the vermouth / wine and the stock. Bring to a simmer on the hob and return to the oven for another hour or so.

When the chicken is cooked and the skin golden, remove the chicken and leave to rest on a carving board. Season the fennel, potatoes and shallots to taste (at this stage check if the vegetables are cooked to your liking and if they need a little more put them back in the oven for a further 20 mins).

Carve the bird and serve with the juices spooned over and scattered with fennel fronds. This is excellent served with dollops of garlicky aïoli and a warmed baguette.
TOP TIPS
This is a fabulous one pot recipe and you get a beautiful moist, delicious herby chicken at the end of it.  I love to serve aïoli with it and to make a quick aïoli stir crushed garlic into good quality shop-bought mayonnaise and season to taste.  I sometimes stir the fennel fronds through or add a bit of shopped tarragon.
This is a perfect lockdown meal for all and if there are fewer of you then you have wonderful leftovers.  You can also change the herbs, if you don't have fennel seeds try a bit of oregano.  If you don't have fennel bulbs try some leeks or leave it out.  Just use fennel and not potatoes if you want to have less carbs and serve with a big green salad.  If you don't have rosemary or thyme use another herb in the cavity.  Lots of options, just see what you have in the larder and chop and change.  But serve it with aïoli if you can!