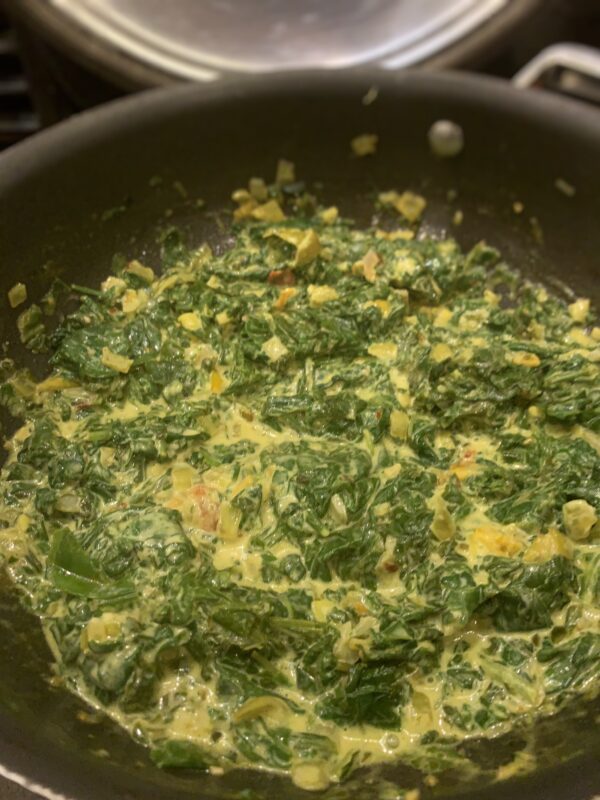 | | |
| --- | --- |
| | |
In a large frying pan sauté the spinach with a 2 tbsp. of water over a medium high heat until wilted. Remove the cooked spinach from the pan into a colander and allow to drain.

In the same pan add the olive oil and reduce the heat to medium. Add the onion and cook gently for 15-20 minutes until the onion is soft, translucent and just starting to colour.

Add the garlic, chilli, ginger, curry powder and turmeric and cook for a couple of minutes until the spices begin to release their aroma. Add the tomatoes and season. Cook for five minutes until the tomatoes are soft. Using the back of a spoon or spatula squash the tomatoes into the bottom of the pan to break them up.

Once the spinach is cool, squeeze out any excess water and using a pair of scissors roughly chop it up.

Add the chopped spinach to the pan with the spiced tomato mixture, stir well to combine and heat through.

Reduce the heat to low and add the coconut cream. Stir well and simmer over the low heat until the mixture is heated through, about 4-5 minutes and serve immediately.
TOP TIPS
This is a delicious and easy variation of the traditional Indian Saag. Made with fresh spinach it can be on the table very quickly and is perfect for a healthy mid-week supper.
I use it as a side and serve a very simple roast chicken breast, piece of pan roasted salmon or cod with it. It is also good enough to have on its own or you could even add some chickpeas to it.
You can use frozen spinach in this dish and use around 400g of frozen chopped spinach. If using frozen spinach defrost it and squeeze it out before adding it at step 5