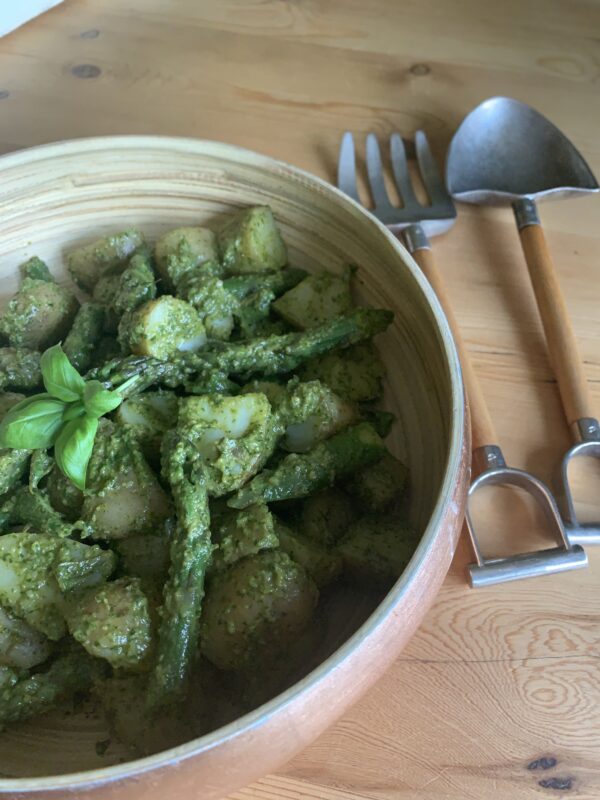 | | |
| --- | --- |
| | |
Put the potatoes in a large saucepan; add the vegetable stock and peeled garlic, season lightly with salt and pepper. Cover and bring to the boil, simmer for 7 - 8 minutes or until nearly tender.

Add the asparagus tips and continue to cook, uncovered, until the asparagus is tender. It will only take a couple of minutes.

Lift the asparagus onto a plate and set aside. Check the potatoes to see if they are cooked and if they are drain them or continue to cook them until tender

Tip into a large bowl and add the asparagus. Set aside. Lift the garlic out and keep separate.

Put the softened garlic from the cooked potatoes, herbs, tomato and oil together into a food processor or blender. Blend to form a purée then season with salt and pepper. Add the cheese and stir to combine.

Just before serving pour the pistou over the potatoes and asparagus, toss lightly together and pile onto a serving dish, serve immediately.
Top Tips
Pistou or pistou sauce is a classic Provençal sauce traditionally made from cloves of garlic, fresh basil, and olive oil. It is similar to the Italian pesto, although it lacks pine nuts. Some modern versions of the recipe include grated cheese - parmesan, pecorino etc. as I have done here.  I have also added mint as it goes so well with the potatoes and asparagus.
Make the pistou up to two days in advance, cover with clingfilm to stop the vibrant green colour from discolouring. Bring to room temperature and stir before adding to the potatoes and asparagus.  Pistou is actually best made just before serving as it retains its bright green colour.
Grating a tomato is a great way to get crushed tomato without the skin.  Grate it on a box grater (best when slightly blunt) on the blades you would grate cheddar on.
Assemble an hour or so before serving if you need to but best served slightly warm and the Pistou added just before serving.
Obviously, you don't have to use jersey royals, use a good new potato like Nicola or Charlotte.  If you don't have enough mint or basil sub one for the other, make it all basil or include some parsley as well.  You can swap the cheese as well - Parmesan, Pecorino or even aged Gouda work well - a hard, tangy, salty cheese works best.