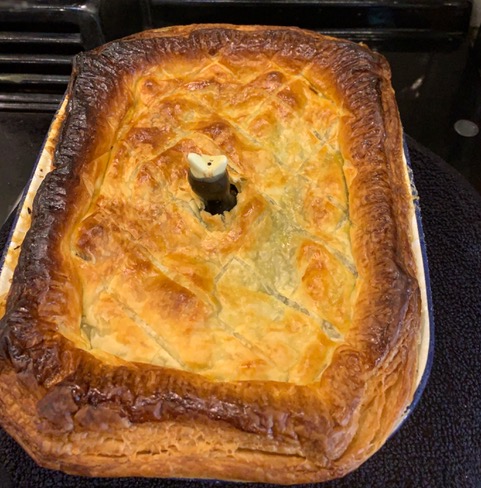 | | |
| --- | --- |
| | |
Cover the dried mushrooms with 150ml boiling water and leave to soak for 30 minutes.

Heat half the oil in a large heavy-based saucepan or casserole on a high heat and colour the lamb in batches, until well browned. As each batch is browned, remove from the pan with a slotted spoon and set aside. When all the meat has been fried, reduce the heat to medium and add the onions to the fat in the pan. Sauté until soft and pale gold.

Add the flour and cook for a couple of minutes. Crush the juniper berries in a mortar, add the rosemary and bruise it to release its fragrance. Add to the onion along with the garlic and cook for two minutes, stirring.

Deglaze the pan by adding the balsamic vinegar and wine, stirring to dislodge all the flavour stuck to the base and sides. Put the lamb back into the pan, together with all the juices that have seeped from it and add the wild mushrooms and their soaking liquor. Bring the mixture to the boil, season, then immediately turn down the heat as low as you can and cover with a lid. Leave to cook gently for 1½ hours, stirring from time to time. Alternatively put in the simmering oven of the Aga or a moderate oven (160C) for 1½ -2 hours.

When there is about 30 minutes cooking time left, heat the remaining 1½ tbsp. olive oil in a frying pan and quickly sauté the fresh mushrooms over a high heat. When they are well coloured, add the butter, for flavour, and season. Add to the lamb. You should find that the juices around the lamb are just the right thickness but, if not, leave the casserole uncovered for a bit so that the cooking liquor can reduce. When cooked allow to cool completely and transfer the stew into a deep pie dish. (Don't put puff pastry onto a hot filling, it won't puff up)

Preheat the oven to 200C / 400F / gas 6

Dampen the sides of the pie dish and drape the pastry sheet over the pie dish leaving a slight overhang and crimp the edges with a fork. Brush with an egg wash and lightly criss cross with a knife, make two small vent holes in the top and bake for 35-40 minutes in the preheated oven or the roasting oven of the Aga until golden brown and the pastry is cooked through.
Top Tips
Make the filling well in advance (it freezes well) and best made a couple of days before. If freezing, unfreeze, bring to room temperature and put in a pie dish and cover with puff pastry and continue as above.
This braised pot pie also works well with beef – shin, chuck, skirt etc. or venison. If you just want a stew, serve with buttery polenta, mashed potato, creamy celeriac puree, savoy cabbage or wedges of roast pumpkin on the side.