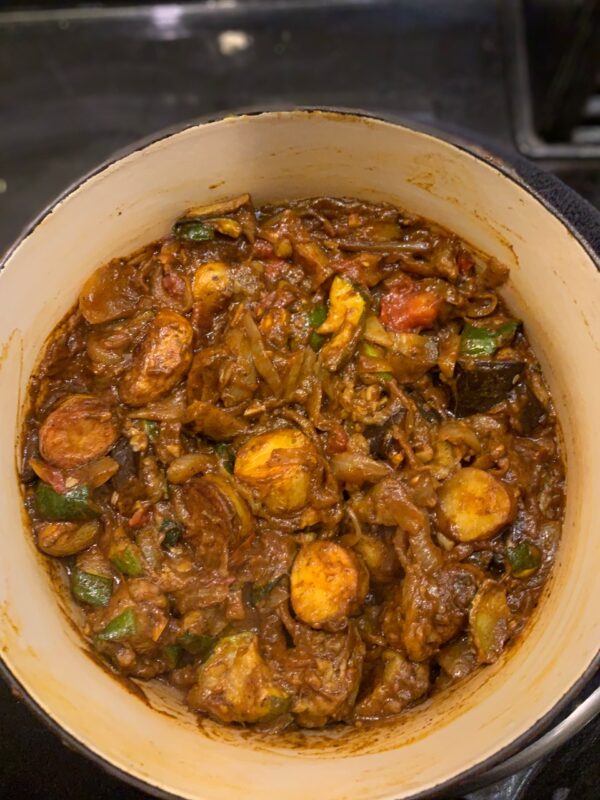 | | |
| --- | --- |
| | |
Preheat the oven to 220C / 200C fan / gas mark 7

Put the potatoes in a mixing bowl and add 1 tbsp. olive oil. Mix and season, toss together and tip onto a lined baking tray. Roast for 20-25 minutes in the preheated oven until starting to brown at the edges.

Add the aubergine and courgette to the same mixing bowl and add 3 tbsp. oil. Season and toss together to coat all the vegetables. Add everything to the same tray as the softened potatoes, mix and roast for another 20-25 minutes until everything is soft and golden.

While the vegetables are roasting, heat the remaining oil in a casserole and add the onions. Soften, stirring often for 20 minutes until golden. Add the garlic, mix well and cook for one minute. Tip in the chopped tomatoes, add the tomato puree and then add all the spices and dried mint. Season well and pour in 200ml of boiling water. Mix everything together really well, bring to a simmer, reduce the heat, cover and cook for 12-15 minutes until the tomatoes have broken down into the sauce.

Transfer the roasted vegetables into the casserole and mix them gently into the sauce. Add a splash of hot water if it looks too dry and cover and cook for 5-10 minutes to allow the flavours to infuse. The vegetables should be warmed through and the sauce really thick.

When you are ready to serve, squeeze the lemon into the pan and add the chopped coriander. Give everything a final mix and serve immediately.
TOP TIPS
This vegetable stew is delicious served with a roast chicken sprinkled with sumac or even a pan fried piece of cod.  It is also very good with a simple green salad with crusty bread to mop up the juices.
Baharat is a Middle Eastern spice blend and is available in most supermarkets or online. The basic ingredients include black pepper, coriander, paprika, cardamom, nutmeg, cumin, cloves and cinnamon.Other spices that can be a part of baharat are sumac, saffron, chili peppers, and turmeric. Baharat is a nice combination of both sweet and smoky without any spiciness. While the taste is not overpowering, it is very aromatic, which is why it is best to use a small amount.
If baharat is not readily available, it is simple to make at home. You will need a spice grinder or small coffee grinder (that is no longer used for beans), or a mortar and pestle. Although you can adjust the recipe to your taste, a good ratio to follow is 4 parts black pepper, 4 parts cumin seeds, 3 parts cloves, 3 parts cinnamon, 3 parts coriander seed, 1 part cardamom pods, 3 parts nutmeg, and 6 parts paprika.  You can toast the spices in a dry frying pan before grinding and then process the first 6 ingredients until fine; add the nutmeg and paprika and mix until combined.  You can also use ground spices to speed up the process. I would just buy it!
Adapted from a recipe by John Gregory Smith