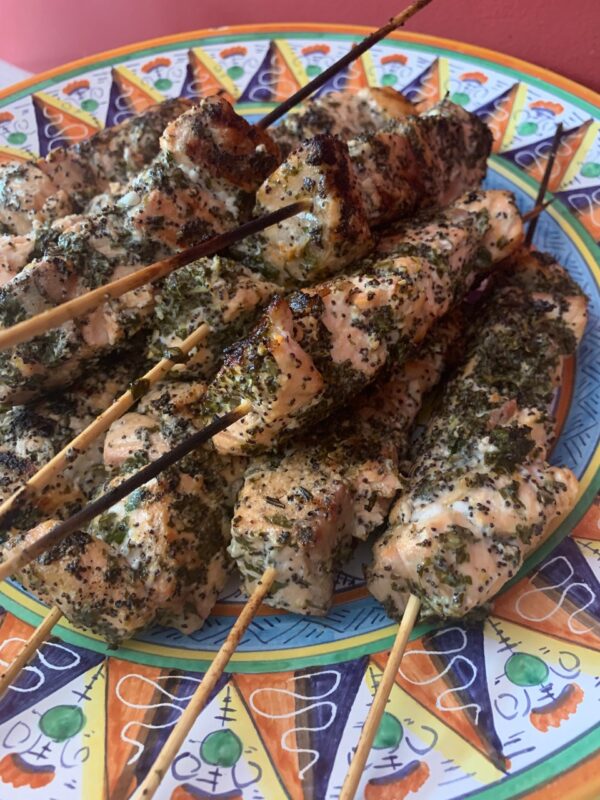 | | |
| --- | --- |
| | |
For the marinade, mix together the basil, thyme, parsley, olive oil, lemon zest, lemon juice, garlic and poppy seeds in a bowl.

Dice the salmon into large cubes and transfer to a large dish and pour the marinade over the salmon. Leave for 30 minutes. While the salmon is marinading soak the bamboo skewers, if using, in cold water.

While the salmon is marinading make the sauce. Use a food processor or a blender, put in all the ingredients except the parsley and process until smooth. It should be a dropping consistency so add a bit of water if needed. Throw in the parsley and pulse until the sauce turns green. Taste and season if needed.

Arrange the marinated salmon on the skewers using around four pieces per skewer.

Put a large, ridged griddle pan on a high heat or light the BBQ and ventilate the kitchen well. Lay the skewers on the grill or BBQ and cook for 2-3 minutes each side. Alternatively, you could cook the salmon under the grill which will take a little longer.

While cooking keep brushing the salmon with the remaining marinade to keep them moist.

Keep the griddle on the heat when the skewers are cooked and put the lemon halves flesh side down on grill pan or alternatively cook them on the BBQ. Cook for two minutes.

When you take the skewers off sprinkle with a little sea salt and a squeeze of lemon.

Serve the skewers on a flat bread with a good dollop of the green sauce and the salmon skewer on top. Serve the remaining green sauce on the side.
TOP TIPS
Make the sauce ahead of time as it will keep in the fridge for three days. Make the marinade ahead of time but only put it on the salmon 30 mins before as the lemon juice 'cooks' the salmon.
The sauce is fantastic with chicken, lamb, beef and veggies off the BBQ, it is really versatile.
Use the marinade for chicken skewers but marinade them for a couple of hours.