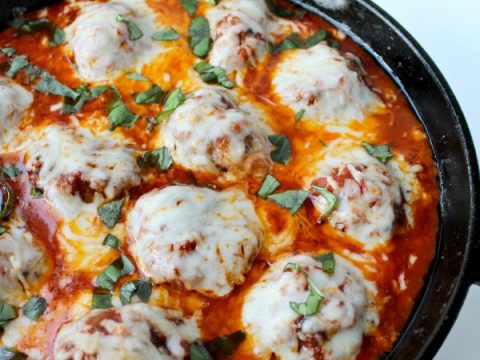 | | |
| --- | --- |
| | |
Put the beef and sausagmeat in a bowl. Add the milk to the breadcrumbs and leave to soak for 10 minutes. Add the breadcrumbs to the meat and put all the the other ingredients for the meatballs into the bowl with 1 tsp of sea salt and a good grind of black pepper, mix together, gently with your hands. Don't overmix as it can make the meatballs dense and heavy.

Get a large baking sheet and pinch out pieces of the mixture and roll between the palms of your hands to form meatballs that are around the size of a walnut, putting them on the tray as you go. You should get around thirty meatballs.

Take a large heavy based casserole or pan that has a lid and heat the oil. Colour the meatballs on all sides in batches, remove onto a plate and set aside. Cook the chopped onion and fennel over a medium heat, stirring every now and then for around 15 minutes until soft and translucent but not coloured.

Add the garlic and chilli flakes and cook for a couple of minutes before adding the wine. Let this bubble up and then add the tomatoes. Half fill the empty tins with water, give them a good swill and add to the pan. Add 500ml of water and 1 tsp of sea salt. Bring to the boil, turn the heat down and simmer gently for 15-20 minutes.

Gently drop the meatballs into the simmering sauce and bring back up to the boil. Turn the heat down, put a lid on and simmer gently for 20 minutes.

Remove the lid and add the orzo, stir gently and turn up the heat to bring back to the boil. Simmer for 10-15 minutes until the orzo is cooked. You will need to give it the odd gentle stir to make sure the pasta is not sticking to the bottom.

Once the orzo is cooked, gently mix in the parsley, add the mozzarella to the top of the pan and let it melt. Remove from the heat and serve in shallow bowls with a scattering of torn basil and parmesan on the table to serve.
I return to this time and again, for easy, one-pot suppers which all the family really enjoy.  You can make the base and add prawns and feta instead of meatballs and mozzarella or make different meatballs - chicken are good.  Lots of variations.
Orzo is the little pasta in the shape of rice – easy to eat a lot of and widely available.  You can simply dress a plateful of Orzo in butter and salt and a handful of parmesan for a quick meal and it is delicious.  You can also use it as a substitute for rice or potatoes and it is often used in a sort of pasta risotto.  Also it is a brilliant to use in one-pot dishes like the above.