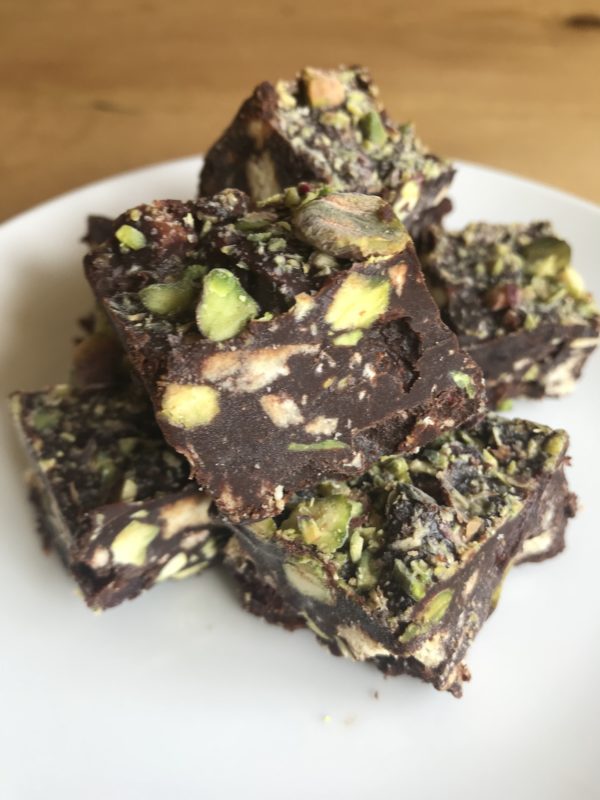 | | |
| --- | --- |
| | |
Line a 28cm x 18cm baking tray or glass dish with greaseproof paper.

Put both chocolates, the golden syrup, the butter and an eighth of a teaspoon of salt in a large heatproof bowl set over a saucepan of gently simmering water (make sure the base of the bowl isn't touching the surface of the water, or the mix will get too hot and split). Heat for two to three minutes, stirring, until melted and combined.

Stir the cherries/ cranberries and their soaking liquid, the biscuits and three-quarters of the pistachios (use the larger pieces at this stage, and save the more powdery bits to finish) into the chocolate mix, until everything is well coated – a spatula is the best tool for this job – then scrape into the lined tray. Smooth the top flat, and sprinkle the remaining pistachios on top.

Set aside for 10 minutes to cool, then wrap the whole tray tightly in cling-film and refrigerate for two to three hours, until set. Cut into bars: you should get 24. If not serving them straight away, put in an airtight container and refrigerate. Serve fridge-cold.
This is handy for using up whatever ingredients you have in the cupboards. Depending on what's to hand and what you like, you could put in any kind of flavoured chocolate (ginger, chilli, etc), biscuits, nuts, dried fruit and alcohol instead of what's listed here. It will keep, covered, in the fridge for up to a week.
I also cut it up and freeze it and serve straight from the freezer.
Adapted from an Ottolenghi recipe