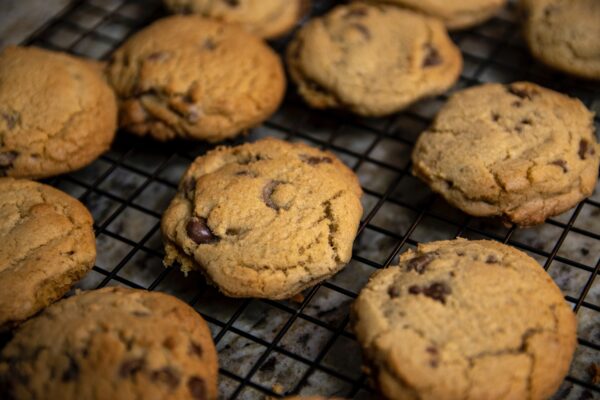 | | |
| --- | --- |
| | |
Preheat the oven to 180C / 160C fan / gas 4

Cream the butter and sugars together in a large bowl using an electric mixer until pale and fluffy. Do not over beat. Add the miso, egg and golden syrup, mix to just combine.

Fold in the flour, baking powder, bicarb and salt and mix to combine. Fold in the chocolate chips.

Line a baking tray with a silicone sheet or baking paper and put tablespoon scoops of the cookie dough onto the tray, around 20 and then chill in the fridge for thirty minutes.

Take out and using your hands roll each scoop into a neat ball. Transfer around 10 balls of the cookie dough to a lined baking tray (keeping the remaining balls in the fridge until needed) keeping them evenly spaced to allow for spread and bake for 12-15 minutes.

Take out of the oven and leave to cool for 3-4 minutes and then transfer to a wire rack to cool completely. Sprinkle with a tiny bit of flaked sea salt and serve. Repeat with the remaining dough.
TOP TIPS
The white miso adds a wonderful salty, umami flavour which works so well in a cookie with chocolate (heaven!) but do use white miso instead of red as the red tends to be too strong.
Make the dough in advance, chill, roll into balls and open freeze.  Once frozen put into bags and pull out and bake from frozen when needed.  You will need to add a few minutes to the baking time if baking from frozen.  You can also chill the dough, roll it into a sausage, wrap tightly in cling, freeze and then take out and cut into discs and bake.
If baking in the Aga, use the baking oven and bake for 10-12 minutes.