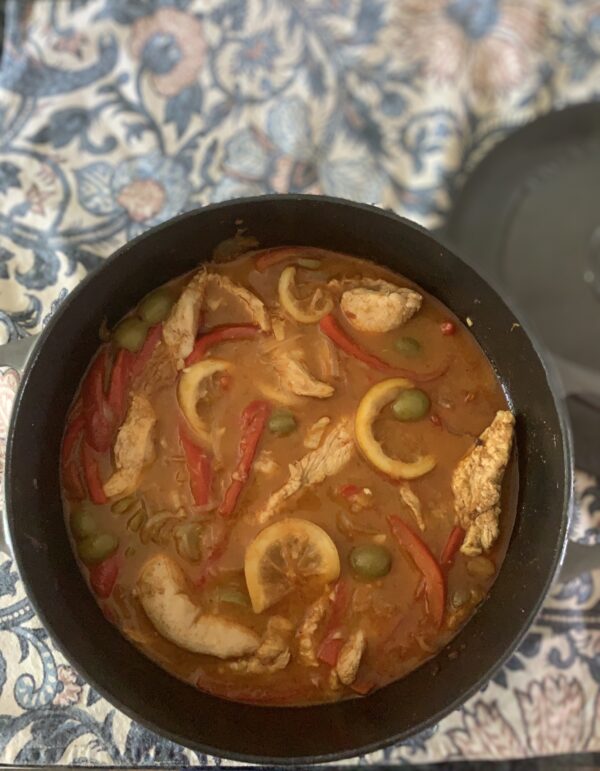 | | |
| --- | --- |
| | |
Dry fry the flaked almonds in a large frying pan gently over a low heat until golden, approx. 4 minutes. Be careful not to burn them as they can brown very easily. Set them aside in a small bowl.

In the same pan heat the olive oil and gently cook the onions for 8-10 minutes until softened. Then add the garlic, ginger, chilli flakes and spices and fry for two minutes. Season.

Add the chicken fillets and cook for a couple of minutes each side to brown. Add the red peppers, lemon slices, olives, stock and apricots. Bring to the boil, turn down to a simmer and cover with a lid. Cook on a low simmer for around 40 minutes until the chicken is cooked through and soft. If you have an Aga pop it in the simmering oven for around 50 minutes.

If you find the sauce is too watery take the lid off and reduce a little. After around 40 minutes add the the beans for the final 5 minutes of the cooking time. Season to taste and serve topped with coriander, parsley and toasted almonds.
TOP TIPS
This stew is warming and is very flavourful.  As good in the warm weather as in cold and serve with piles of cous cous with feta and herbs (see recipe for Lemon, Feta and Herb Cous Cous in my recipe archive), it goes really well with this.
The beauty of this recipe is that once you have prepped everything you just pop the lid on and leave it simmering for 40-50 minutes and then you just add a handful of chopped herbs and sprinkle the almonds when you plate up.  It is a really good lockdown recipe to feed a hungry family and you can reheat it if there are leftovers.
You can also make it a couple of days before and reheat simmering until piping hot through.
Also if you have any left over sauce serve it the next day with steamed vegetables and quinoa.
Adapted from a Hemsley and Hemsley recipe.