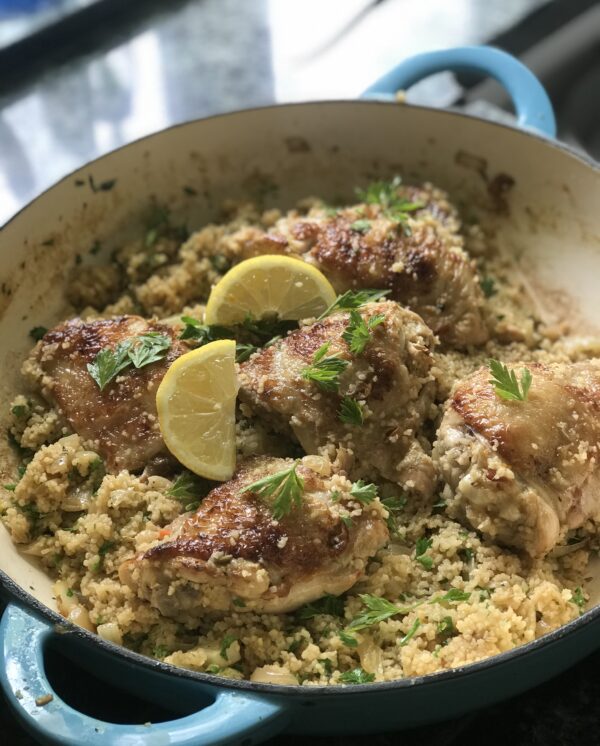 | | |
| --- | --- |
| | |
Remove the fronds from the fennel and cut out the core and roughly chop. Mix with the finely chopped onion, set aside.

To make the marinade, place a large freezer bag inside a wide-necked measuring jug or similar, pour in the oil, add the lemon zest, juice and spoon in the salt, fennel seeds and garlic. Add the peppermint oil and stir briefly to mix.

Add 2 chicken pieces, followed by half the fennel and onion mix and repeat. Seal the bag tightly at the top and lie the bag in a big dish. Squelch it about so that you make the small amount of marinade cover everything. Leave in the fridge overnight or up to one day.

Heat 1 tbsp. oil in a large frying pan or cast-iron pot. Remove the chicken pieces from the marinade then place in the hot pan and brown the meat all over on a high heat for around 6-8 minutes.

Turn the heat down to medium and add all the marinade in with the chicken and cook for 6-8 minutes stirring occasionally until the vegetables start to soften.

Pour in the hot stock and bring to the boil. Place a lid or some foil on the pan and simmer gently for 10 minutes.

Take the lid off and check the chicken to see that it is no longer pink. If it is still pink then cook for a further 5 minutes and check again. Once cooked through lift out the chicken and place on a plate somewhere warm. Pour in half the lemon juice and add the couscous into the stock stirring to evenly distribute it. Add the peppermint oil and stir to combine. Place the chicken back, skin side up into the pan, place the lid or foil back on and turn the heat down to very low and cook for five minutes, then turn off the heat.

Take off the lid, fluff up the couscous and add the chopped parsley. Mix the parsley through and pour the remaining lemon juice over. Serve immediately.
Summerdown Mint have been growing, harvesting and distilling their very own Black Mitcham peppermint for almost three decades, all from their family farm in the Hampshire countryside. They transform this vibrant plant into an astonishingly aromatic, barrel-aged peppermint oil, which is used in their award-winning chocolates, teas, candles, diffusers… and everything in between. Well worth getting a bottle - click the link to buy https://www.summerdownmint.com/shop/teas-oils/peppermint-oil/
This is a great 'feed a crowd one pot dish', double the quantities and tweek the cooking time for the chicken – probably 15 minutes or so when in the stock.