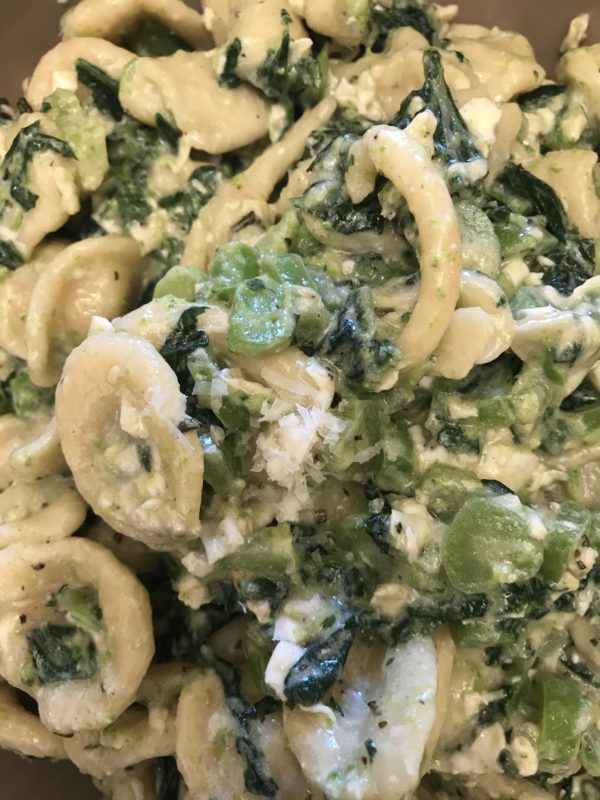 | | |
| --- | --- |
| | |
Bring a large saucepan of water to the boil. Prepare the broccoli first and add a couple of teaspoons of salt to the boiling water. Add the pasta and the broccoli to the water stirring well, to prevent he pasta from sticking together.

Cook the pasta until it is al dente then drain, reserving one small cup of water if not using the cream. The broccoli will break up, but this is how the sauce is created.

Pour the olive oil into a saucepan and add the garlic, chilli and rosemary. cook gently for a couple of minutes until the garlic is a light golden brown. Add the broccoli, pasta and cream (if using), remove from the heat and mix well. Add a little of the water to loosen the pasta if need be, then season with salt and pepper, olive oil (if not using cream) and half the Parmesan. Serve immediately with the remaining Parmesan on top.
This pasta is one of the simplest, easiest and most satisfying pastas to eat.  It is not a sauce that needs to be prepared in advance but you can chop all the veggies, herbs and spices beforehand if using dried pasta.
Use high-quality brands: de Cecco (sold widely), Rummo (sold at Sainsbury's), or Rustichella D'Abruzzo and Maratelli (available from Amazon and delis).
Copyright Sophie Braimbridge