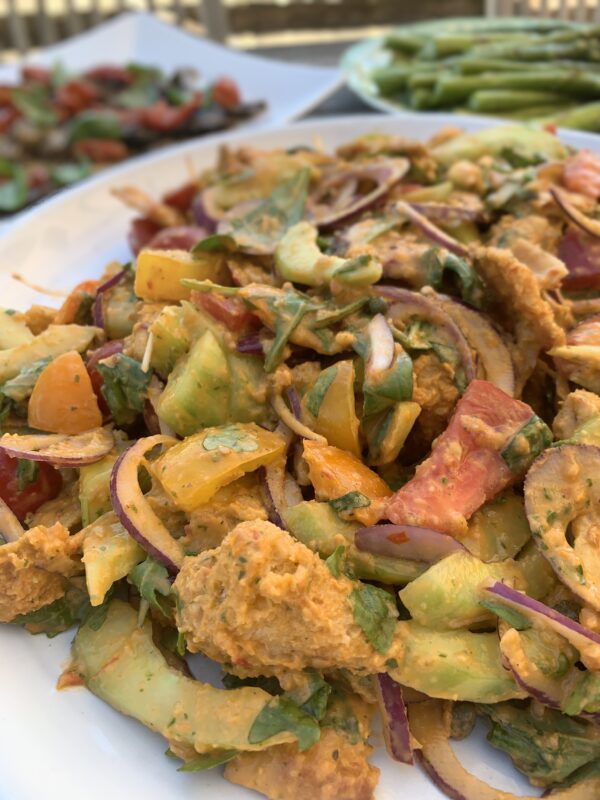 | | |
| --- | --- |
| | |
Preheat to the oven to 200C / 190C fan / gas 4.

Tear the bread into bite sized chunks and put it on a lined tray and drizzle with the olive oil and add a pinch of salt. Toss to coat. Place in the preheated oven and bake until started to crisp and colour around the edges but still soft inside. Remove from the oven, put into a large bowl (you will mix all the salad in this bowl) and allow to cool slightly.

While the bread is baking, take half the tomatoes and add the garlic, olive oil, vinegar and half the bunch of basil and put in a blender. Season and blend until smooth, set aside.

Pour the dressing over the bread and let the bread sit for five or so minutes.

Add the remaining chopped tomatoes, rocket, cucumber, remaining basil, sliced red onion and capers to the soaked bread and stir to combine. Season, taste and adjust as required. Pile onto a serving plate and serve immediately.
TOP TIPS
I love to use heritage tomatoes in this recipe as the colours look so good.  You can order boxes of wonderful tomatoes directly from The Tomato Stall on the Isle of Wight and they deliver to your door.  They also do IOW asparagus.  They are fabulous at this time of year and I promise you you can get through a 3kg box in a matter of days...! Their Padron peppers are excellent as well.
If you don't have white balsamic then just use red or white wine vinegar.  White balsamic is absolutely delicious and I do recommend having some in your store cupboard over the summer months.  I sell Fino White Balsamic so please do contact me if you would like any.
I had very little stale bread the other day so I used the remains of some flat breads we had had the night before and a pitta bread and they worked really well.  Baguette or sour dough also work well.  I am afraid to say white bread is better in this than brown!
Adapted from a Jake Simpson @ Stirred recipe