Tender penne pasta tossed in a rich and delicious tomato, vodka and creme fraiche sauce. Before you convince yourself there's no way that a little onion, tomato and creme fraiche can come together in mere minutes to make one of the best homemade pasta sauces you've ever had, hear me out!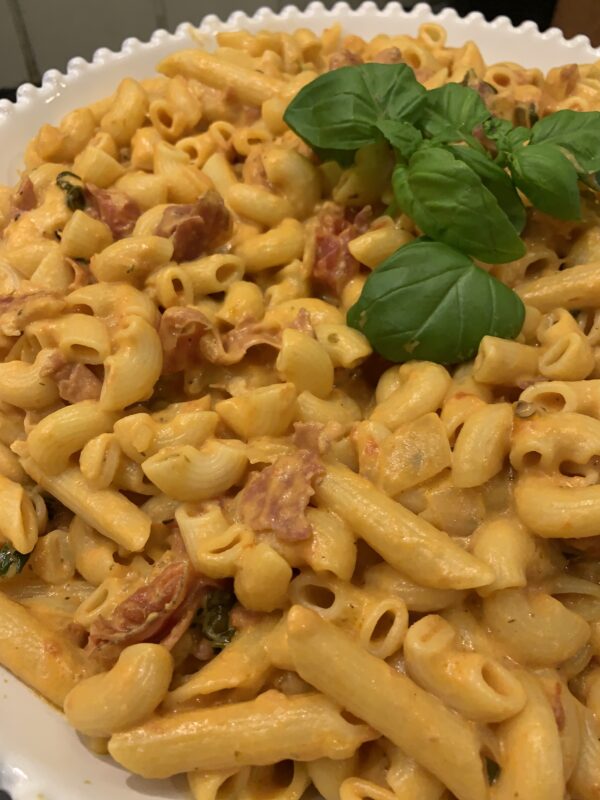 | | |
| --- | --- |
| | |
To make the tomato sauce, heat the olive oil in a saucepan and add the onion, soften for 8 minutes until translucent. Add the garlic and dried oregano and fry gently until the garlic is beginning to turn golden.

Add the ham, chopped tomatoes and tomato paste and season well with salt and pepper. Cook gently for about 15-20 minutes until the sauce begins to thicken. If you are cooking this ahead (and I always do) stop here.

While the sauce is simmering, bring a pan of salted water to the boil and cook the pasta until al dente (3-4 minutes less normally than the cooking time on the packet).

Stir in the vodka and simmer for 3-4 minutes. Add the crème fraîche and basil leaves into the tomato sauce, heat gently. Season and take the pan off the heat.

Drain the cooked pasta, tip it back in the pan and add the butter and some more salt. Turn the penne in the melting butter and then tip it into the tomato sauce unless it is easier to pour the tomato sauce over the pasta: it depends on the sizes of pans you are using.

Toss the pasta in the sauce until it is evenly coated and turn out into a large, warmed bowl and serve immediately. Serve with the Parmesan on the side.
TOP TIPS
If you don't have Parma ham use another cured ham (Serrano, San Daniele, Jambon de Bayonne) or just an ordinary smoked ham, smoked bacon or even pancetta.  I like the dried cured meats in this as they add a great flavour and a slightly different texture than normal ham.
You can make this without the ham and you could add a pinch of chilli flakes to the onion and herb mix to make it a bit spicy.
If you want to taste more of the vodka,  don't add it to the sauce but add it to he pan with the pasta and butter in.  This gives you a more intense flavour.  If you add it to the sauce and boil off the vodka then you are only left with about 5% of the original alcohol which is not a lot but seems to unlock the flavour of the tomatoes - I love either way.