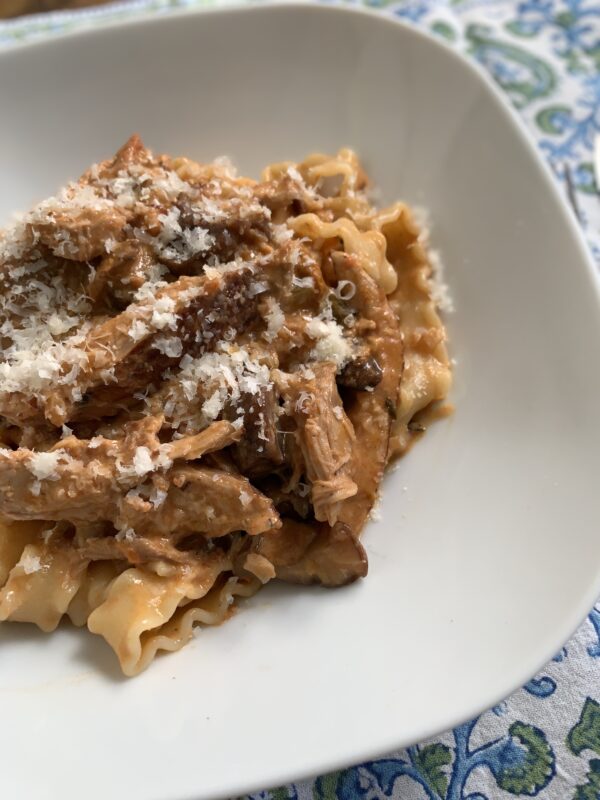 | | |
| --- | --- |
| | |
Heat a little vegetable oil in a large, ovenproof dish. Season the pheasant and fry in a couple of batches on a high heat for 3-4 minutes, until it has coloured, then transfer to a plate or dish.

Meanwhile, gently cook the celery, onion, garlic and pancetta in a tablespoon of the vegetable oil for 3-4 minutes without allowing it to colour, then stir in the flour and cook on a low heat for a minute.

Stir in the tomato purée, chopped tomatoes and thyme, and then gradually add the red wine and hot beef stock, stirring constantly to avoid lumps forming.

Bring to the boil, add the pheasant meat, season and bring to a simmer. Cover and put in the simmering oven for 1 ½ hrs or simmer gently for about 1 hour or until the meat is tender.

Once the meat is tender lift out the joints, allow to cool and while they are cooling simmer the sauce to reduce slightly. Strip the meat from the joints and roughly chop and add back into the pan. Add the chestnuts for 10 minutes until heated through.

Bring a large pan of salted water to the boil and cook the pasta according to the instructions, then drain and season.

Just before serving stir in the cream and the Parmesan and heat through. Mix half the sauce into the warm paster and serve in warmed pasta bowls or plates with the remaining sauce spooned over the pasta. Serve extra grated Parmesan or pecorino separately.
Based on Northern Italian ragus this pheasant recipe is a fabulous way of using up fresh or frozen pheasant. It freezes well but freeze without the chestnuts and add when reheating.
The ragu can also be made with venison (use haunch or shoulder around 1Kg) or rabbit (use a large jointed rabbit) and then shred the meat off the bone after cooking like the pheasant.  Other dark meat like beef and lamb would work as well - super versatile.
The ragu does not only go well with pasta, use it as a filling for pies topped with puff pastry or just by itself with creamy mash or a crisp baked potato