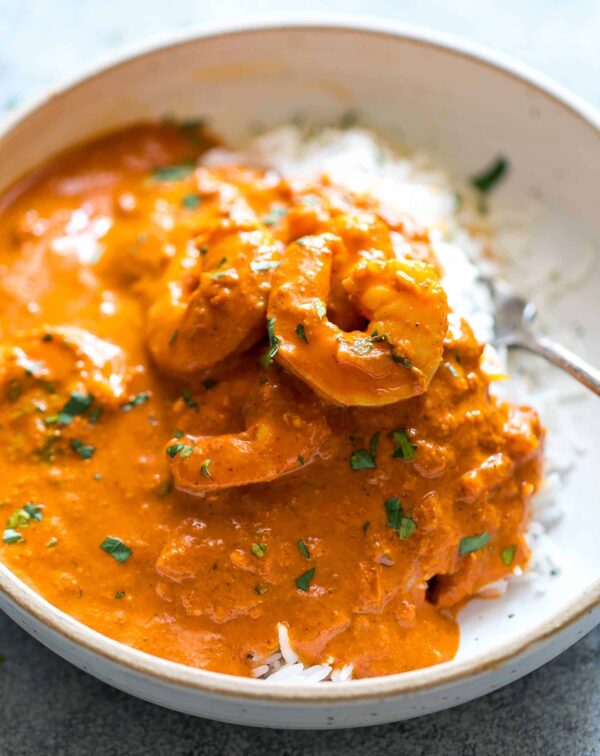 | | |
| --- | --- |
| | |
Heat a wok or large frying pan over a medium heat and add 1 tbsp oil. When it is hot, add the onions and cook gently for approx 10-15 minutes until they are translucent and tender. Lift out and set aside.

Add another tablespoon of oil and when it is hot add the curry paste and stir-fry for 30 seconds. Add the prawns, turn up the heat and stir-fry them for 1 minute or until they are entirely coated with the curry paste. Remove with a slotted spoon and set aside.

Add the ginger, turmeric and garlic to the pan and stir-fry for 10 seconds. Stir in the coconut milk, fish sauce, lime leaves or zest, sugar and water chestnuts, bring to the boil and simmer for 5 minutes

Return the prawns and the onions to the sauce and simmer for 3 minutes or until they are cooked through.

Toss in the basil, season and give it a final stir. Serve immediately with Thai jasmine rice and a squeeze of lime.
TOP TIPS
To cook ahead miss out point 2  (so keep back one tbsp. of curry paste and the prawns) cool and put in the fridg. When ready to eat, heat a frying pan, complete stage 2, reheat the sauce and carry on from point 4.
This curry works really well with pork. Use pork fillet cut into fine strips.
When adding the prawns make sure you only just cook them through and then take them off the heat as they will continue cooking and you don't want to overcook them.
This curry is not brilliant to freeze as you have cooked the prawns and by reheating the prawns tend to overcook and become rubbery.  You could make the sauce as above and freeze it.
Adapted from a Mary Berry recipe.