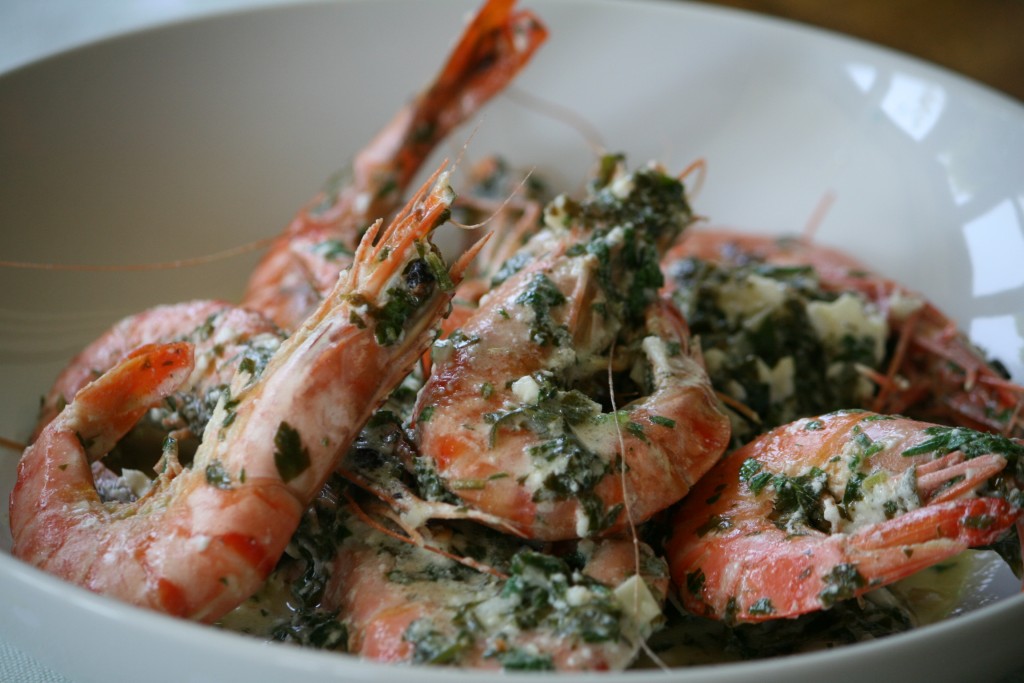 | | |
| --- | --- |
| | |
Clean the prawns and cut a slit down the back from the bottom of the head to the beginning of the tail. Remove the dark vein, rinse under running water and drain well.

Dot about 40g of the butter over the base of a large cast iron casserole dish. Arrange a single layer of prawns in the dish and season with salt. Scatter over approximately 1/3 of the garlic and parsley over the top, and sprinkle with a little chilli sauce.

Dot about half the remaining butter over the top of the first layer of prawns and arrange a second layer on top. Scatter with garlic, parsley and chilli sauce. Repeat for a third layer if you have any ingredients left.

Put the casserole dish lid on and cook over a medium-high heat for approximately 5 mins until the prawns have brightened and their flesh is starting to turn pink. Add the lemon juice and crumble the feta cheese over the top. Rock the dish from side to side to spread the sauce about.

Cover the casserole dish again and cook for a further 3-5mins or until the feta has melted and the prawns are pink and cooked through, shaking the pan again to mix the juices up.

Take the dish to the table and show everyone as it looks wonderful, serve immediately
Top Tips
Try and get large raw head on prawns as they look fab.  You can often get these frozen.  If you can't get those just get the biggest raw prawns you can.  Clean the prawns beforehand and keep covered in the fridge, prepare the other ingredients and put it together just before guests arrive and then it only takes 10 minutes or so to cook.
Give everyone hot finger bowls with lemon in as it is messy.
Serve with hunks of fresh bread for mopping up the juices, sour dough is delicious with this dish.
Don't over power with the chilli sauce, it should have a good balance of strong flavours but the chilli should not be overpowering.