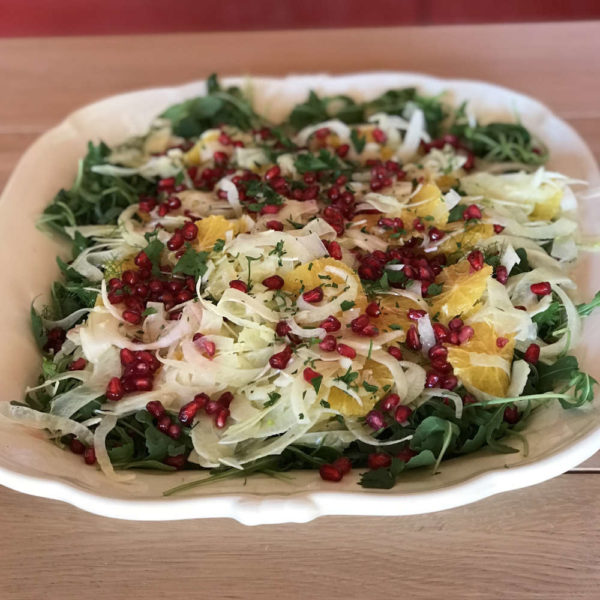 | | |
| --- | --- |
| | |
Cut the fennel in half through to the base, across the stems and remove the triangular shaped root part of the fennel. Finely slice the fennel on a mandolin or by hand and place in a bowl, adding the lemon juice and olive oil immediately to prevent the fennel from discolouring. Season with salt and pepper and add the parsley just before serving. Place on the rocket salad and serve straight away with orange segments and pomegranate seeds scattered ontop.
The fennel can be prepared in advance and left to marinate a couple of hours before hand.
Avoid using a carbon steel knife when slicing the fennel to keep them as white as possible.
This is a very simple but refreshing tasting salad. It can be made throughout the year it also works really well if served with oily rich foods. You can omit the rocket and just use the fennel and oranges, as they will last for several days in the fridge. The trick with this salad is to make sure the fennel is as thinly chopped as possible. Blood oranges when in season make a great colour contrast, but ordinary ones work just as well and use pomegranate seeds, to give some extra colour to the salad.
Recipe by Sophie Braimbridge