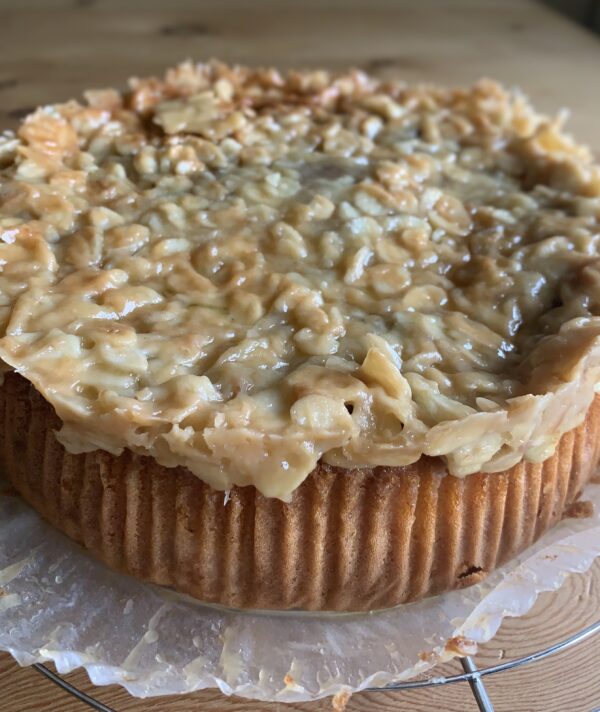 | | |
| --- | --- |
| | |
Preheat the oven to 180°C, gas mark 4. Line the bottom of a 20cm springform cake tin with baking parchment then butter the paper and the insides of the tin.

Beat the eggs and sugar with an electric mixer until pale and light, then add the melted butter and vanilla. Fold in the flour, baking powder and salt. Scrape into the prepared tin, toss the rhubarb with the extra 2 tsp of sugar and scatter it on top.

Bake for about 40-45 minutes, or until the cake is golden and cooked (test if a skewer comes out clean). Take the cake out of the oven, turn the temperature up to 200°C, gas mark 6 and make the topping. Melt the butter in a small saucepan then stir in the sugar, flour, almond flakes and cream and cook for 3 minutes, until the mixture is bubbling, stirring occasionally.

Pour the buttery topping over the cake, spreading it right to the edges. Bake for another 10 minutes. Remove from the oven and leave to sit in the tin for 10 minutes, then run a knife between the inside of the tin and the edges of the cake, unclasp the ring and slide the cake onto a wire cooling rack. Serve warm or at room temperature, with cream or crème fraîche.
TOP TIPS
This is a classic Swedish Tosca Cake recipe by Diana Henry which I love, you need this cake!  It has a lovely almond-toffee topping added before the end of baking time - the tartness of the rhubarb and the sweetness of the toffeed almonds is really moorish.
You could use apricots, pears or even plums in this recipe and they would all work well.  Love a versatile cake!
Recipe by Diana Henry.