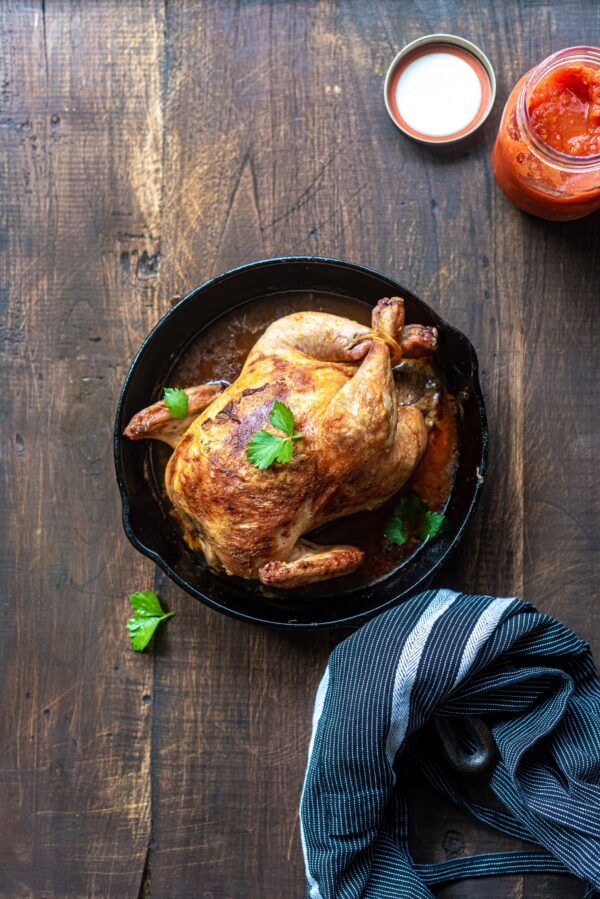 | | |
| --- | --- |
| | |
Preheat the oven to 160°C / fan 140°C / Gas 3.

Heat a layer of oil in a large casserole dish. Season the chicken inside and out and brown all over in the casserole dish. Set aside and put the halved apple inside the cavity.

Add the onions to the casserole and fry for 10 minutes to soften. Return the chicken to the pan and add the herbs and cinnamon.

Pour in the cider and bubble for a few minutes, then add the stock. Bring to the boil, then cover and transfer to the oven to cook for 1 hour.

Meanwhile, heat a little oil and the butter in a small frying pan and fry the rest of the apples (the three sliced into 8) with the sugar until golden and caramelised. Add the sultanas and toss in the buttery juices. Add to the casserole about halfway through the cooking time.

Remove the lid of the casserole and turn up the oven to 220°C, fan 200°C, Gas 7. Cook for 10 minutes more to brown the top of the chicken, then serve.
TOP TIPS
I serve with buttery mash and greens but just as good with a salad and bread to mop up the juices.  You can also change the herbs and use tarragon instead of sage if you prefer.
You can add a few tablespoons of crème fraîche or cream at the end of the cooking time to make it more creamy.  Take out the chicken let it rest, add the creme fraiche or cream, return to the heat and allow to thicken.  Carve chicken and spoon the sauce over.
I have also added chantey carrots to the the stew before it goes in the oven having fried them off for a couple of minutes with the onions.  This is also very good.
Recipe is from Spanish Recipes From San Sebastián And Beyond by José Pizarro