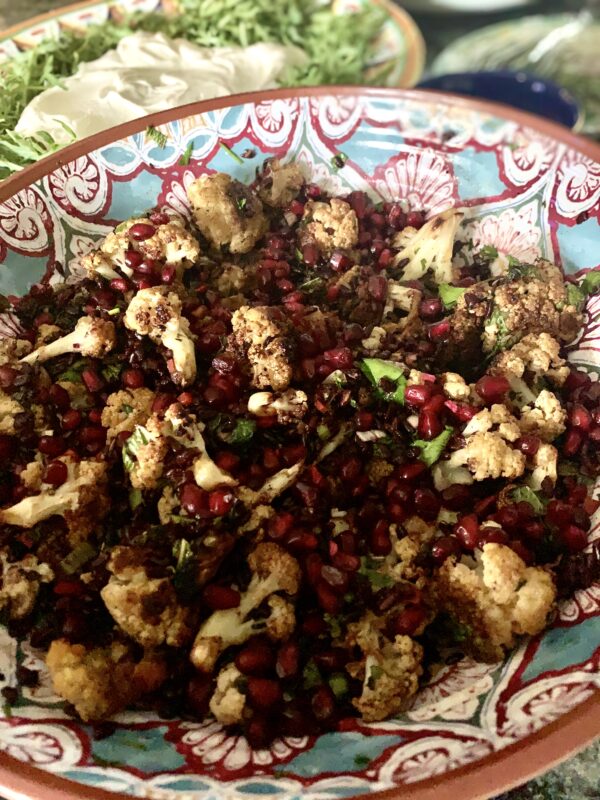 | | |
| --- | --- |
| | |
Preheat the oven to 200C / 400F / gas 6

Put the cauliflower into a mixing bowl and pour over 2 tbsp. of the olive oil. Mix the oregano, cumin, coriander, sumac, sesame seeds and chilli flakes together and add to the cauliflower with a good pinch of salt. Toss together and transfer to a roasting dish. Cook in the oven for 35-40 minutes until cooked through and brown around the edges.

Meanwhile, cook the rice in a pan of boiling water for 25-30 minutes or until tender. Drain, rinse under cold water and drain again thoroughly.

Put the rice in a large mixing bowl and add the chopped herbs, spring onion, red chilli, lemon juice and pomegranate molasses, the remaining olive oil and a good amount of seasoning. Toss together and transfer to a serving dish. Top with the cauliflower and pomegranate seeds. Serve immediately.
TOP TIPS
I am slightly obsessed with roasted cauliflower at the moment and this satisfies my craving and is a great summer salad to go with meat off the BBQ.  If you have Zaatar you can use this instead of the the spices.
With its striking black appearance, venere rice is the "rice of the emperors" with Chinese roots but now also grown in Italy. This black rice goes by many names, including "emperor's rice" and "forbidden rice," and is grown in both China and Italy.  From the Lombardy and Piedmont regions of Italy, Venere Nero rice is also known as Black Venus rice. Venere Nero is a hybrid grain that combines Emperor black rice with an Italian variety and has a great texture that requires slightly longer cooking time than traditional white rice. However if time is short use a packet of precooked black rice or any wholegrain cooked rice that is available in supermarkets (black rice available at Waitrose) and delis.  Gallo sell pre cooked and bags of Venere black rice.  Remember it is the whole grain Venere black rice you are after NOT the Thai sticky black rice.  If you can't find black rice make with wholegrain brown or brown mixed with wild rice or even the red Camargue rice.  All good substitutes.
If you don't have pomegranate molasses sub with a mixture of balsamic vinegar with a bit of sugar or honey or tamarind paste with honey, vinegar and some whizzed dates.  It is worth getting a bottle if you see it as it lasts for ages and you can use it in dressings, on roasted vegetables and salads.
Adapted from a John Gregory-Smith Recipe