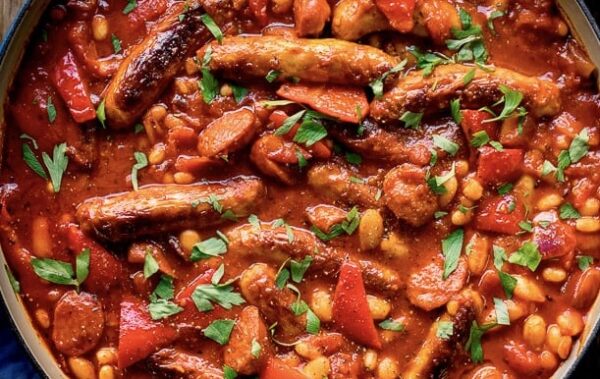 | | |
| --- | --- |
| | |
Heat the oil in a large non-stick frying pan and fry the sausages gently for 10 minutes, turning every now and then until nicely browned all over. Transfer to a large saucepan or a flameproof casserole dish and set aside. Fry the bacon pieces in the frying pan until they begin to brown and crisp then add to the sausages.

Place the onions and pepper in the frying pan and fry over a medium heat for five minutes until they start to soften, stirring often. You should have enough fat in the pan, but if not, add a little more oil.

Add the cabbage and garlic and cook for 2–3 minutes more until it all starts to soften and turn golden- brown, stirring frequently. Sprinkle over the garlic, thyme and smoked paprika and cook together for a few seconds longer.

Stir in the wine, tomatoes, chicken stock, tomato purée, Worcestershire sauce, brown sugar, bay leaf and beans. Stir to combine, bring to a simmer and reduce for 5 mins.

Tip carefully into the pan with the sausages and bacon and return to a simmer, then reduce the heat, cover the pan loosely with a lid and leave to simmer very gently for 25-30 minutes, stirring from time to time.

Season to taste with salt and freshly ground black pepper and serve with rice, mash or slices of rustic bread, green veg or a salad.
TOP TIPS
Use different flavoured sausages for different variations and substitute the cannellini beans for any type of bean (butter, aduki, borlotti), red lentils, puy lentils or leave them all out. This is a really versatile stew that can be prepared days ahead and freezes well.
Swap the cabbage for cavolo nero or kale but add 10 minutes before the end of cooking time– delicious!
If you don't have beans or cabbage just do the sausages in the smokey sauce.  If you have no tinned tomatoes just use more stock and add more tomato purree.  Lots of options.