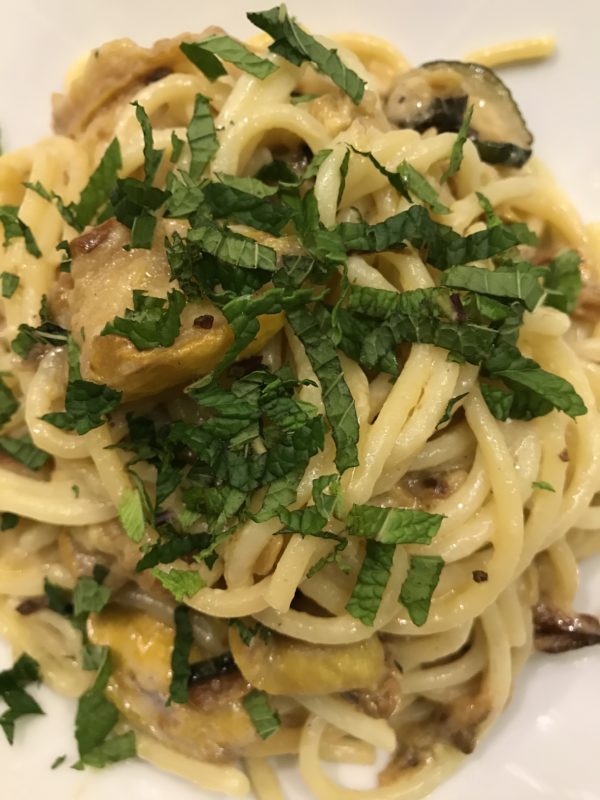 | | |
| --- | --- |
| | |
Wash and slice the courgettes into 2-3mm thick rounds. Peel the garlic. For a milder flavour, crush it with the back of a knife so it splits, but remains whole. For a stronger flavour, slice. Bring a large pan of water to the boil in preparation for the spaghetti.

Fry the garlic gently in the olive oil over a medium heat until fragrant, then use a slotted spoon to scoop it out – it will burn otherwise and turn bitter

Fry the courgette discs in batches on both sides until they have become lightly blistered and golden, then use a slotted spoon to lift them on to kitchen towel to blot. When done sprinkle lightly with salt and when all are cooked keep in the pan.

While the courgettes are cooking, place the mascarpone in a small mixing bowl and mix with the zest and juice of the lemons. Season and add 30g of the Parmesan into the bowl, mix to combine.

Once the water is boiling, add salt, then the spaghetti and cook until al dente. Drain the spaghetti – keeping a small amount of cooking water. Place back into the saucepan and add the mascarpone mix and stir to combine. Add the cooked courgettes and any remaining oil and gently toss.

Tip the glistening spaghetti into a warm dish or bowl, add a grind of black pepper and most of the mint and toss. Finish with the remaining cheese and a sprinkle of mint.
TO GET AHEAD
Fry the courgettes in advance and gently heat through when needed. Mix the mascarpone with the lemon zest and juice, parmesan and salt and pepper and keep refrigerated until needed. Then just cook the spaghetti, heat the courgettes gently and combine with the mascarpone when you are ready.