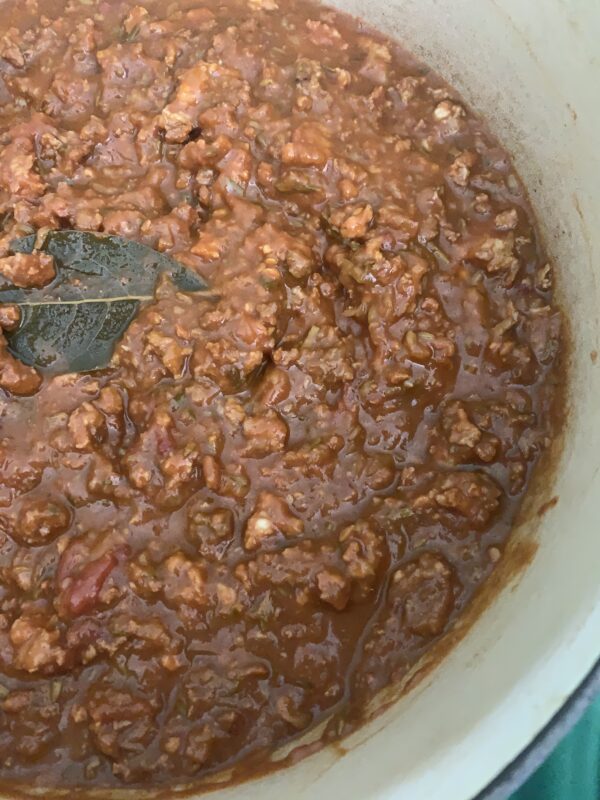 | | |
| --- | --- |
| | |
Heat the oil in a large saucepan over a medium to high heat.

Add the onion and cook until soft and just crisp around the edges, about 5 minutes.

Stir in the crumbled sausage, garlic, rosemary, bay, fennel and chilli.

Fry quite briskly, stirring thoroughly to break up the sausage meat.

Turn down the heat to low and cook slowly for 15 minutes when the meat should be well browned.

Stir in the tomatoes and stock and simmer slowly for approx 30 minutes. You can put it in the simmering oven of a 4 door Aga and forget about it for an hour or so.

Just before serving stir the cream into the sauce along with half the parmesan and salt and pepper to taste.

Serve with pasta or rice and sprinkle remaining parmesan over the top.
TOP TIPS
Leave out the cream and parmesan if you want a plainer version.
Use any sausages you have. A mixture of venison and pork sausages also works really well.
Use beef mince mixed with pork sausage.  I made a vat of it last week with beef mince and pork sausages - it was delicious and a variation on mince.  You can use just beef mince as well.
You can make a vegetarian version of this and use aubergines instead of sausages. Take 1kg of aubergines and chop into cubes. Add these where you add the sausage BUT fry until golden and cooked through (around 15-20 minutes and you might need more oil) then continue as above. Leave the chilli out if you prefer it non spicy.
Use this ragu in lasagnes or dishes where you use mince for a variation.  I layer it up with tagliatelle and cottage cheese.  A layer of ragu, a layer of tagitalle and then a layer of plain cottage cheese finishing with the ragu and topping with grated parmesan and then baked in the oven for 45 minutes - a quick cheat's sort of lasagne
You can make the pasta sauce a couple of days ahead, cool completely, cover and chill. Reheat, then add the cream, some cooked pasta and parmesan. This also freezes really well so make lots of it without the cream and parmesan.