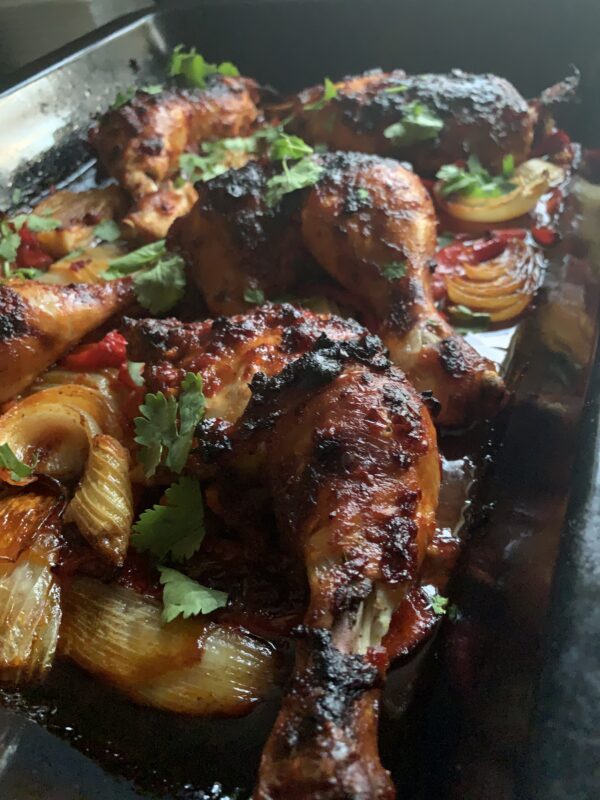 | | |
| --- | --- |
| | |
Mix 2 tbsp. olive oil, the harissa, honey, garlic, lemon zest and juice in a dish big enough to marinate the chicken.

Trim the excess skin on the chicken thighs. Put all the chicken in the dish and mix to combine. Cover the dish loosely with cling film and put in the fridge for a couple of hours more if possible (overnight is good if you have time.)

Preheat the oven to 200C / 180C fan / gas 6

When ready to cook, place the onions and peppers in a small roasting tin, drizzle with the remaining oil, season and mix to combine.

Transfer the chicken and the marinade into the tin on top of the vegetables making sure the chicken fits snugly in a single layer.

Roast for around 45-50 minutes in the preheated oven or top right of the Aga, basting the chicken every so often.

In the last 5-10 minutes of cooking time, heat a frying pan until very hot and put the lemon halves into it (no oil). Let them cook until they begin to char, around 5 minutes. Serve the chicken with the scorched lemon and piles of Lemon, Feta and Herb Couscous (see recipes).
TOP TIPS
SUBSTITUTION FOR HARISSA:  If you can't get hold of Harissa then use some chopped fresh red chillies, cumin, caraway seeds with some olive oil and crush / mix them together to form a pesto like paste.  You could also whizz together some red peppers (grilled or out of jar), some red chillies, paprika, caraway and lemon juice and whizz in a blender to make a paste.  Anything you have got really or even just any hot sauce you have in the house.
QUICK HOMEMADE HARISSA
250g  grilled red peppers
5 small red chillies
1 teaspoon smoked paprika
2 teaspoons caraway seeds or cumin
1 tablespoon lemon juice
Harissa is a North African spicy hot chilli pepper paste with the main ingredients being red peppers and chillies with garlic, vinegar and spices (cumin, coriander, caraway among others). It is perfect for adding smokiness and heat to dishes like grilled fish and meat, add it to hummus, pasta sauce, roasted vegetables and stir through yoghurt, stews and soups. A good store cupboard essential. Harissa can vary widely in taste and heat. Sometimes it is smokey form the addition of roasted fresh chillies, sometimes sharp and tangy from vinegar and citrus. If you want a sweeter flavour with a milder heat go for the mild rose harissa pastes. You can make your own there are lots of recipes out there – have a go but I like Belzau Rose Harissa.
Use chicken thighs or legs here rather than breast as that can dry out with the longer cooking time. I like to use skin on large chicken legs (not just the drumsticks the actual drumstick with the thigh attached.)
You could always add a few big handful of new potatoes to the tray and mix with the peppers and onions when cooking to make it into a one tray wonder as they will soak up the juices and be cooked and sticky by the end of roasting.