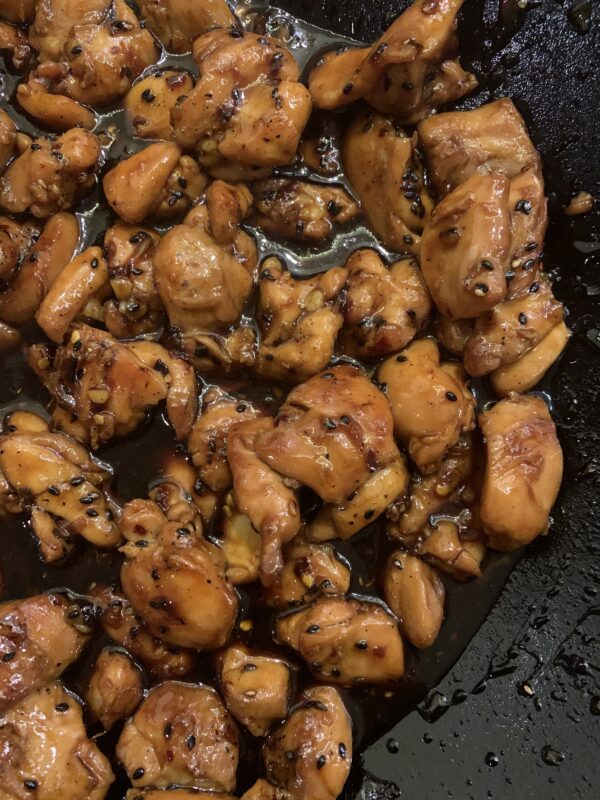 | | |
| --- | --- |
| | |
Mix the cornflour with a small amount of the soy sauce and gradually add the remaining soy sauce whisking until it is smooth with no lumps. Add the honey, rice wine vinegar and chilli flakes, whisk to combine.

Season the chicken. Heat the oil in a wok or large frying pan until hot and add the chicken. Cook stirring for around 6-8 minutes until warm through and starting to brown. Add the garlic and ginger and cook for a further 2-3 minutes.

Add the sauce ingredients and cook for around 8-10 minutes until the sauce thickens and the chicken is well coated.

Remove the chicken from the pan into a serving dish and sprinkle with the toasted sesame seeds and serve with piles of brown rice and stir-fried vegetables.
TOP TIPS
I serve with brown rice mixed with a big handful of chopped coriander and the juice of a lime. I also stir fry veggies – onions, peppers, bean sprouts, carrots, broccoli with lashings of soy sauce and a splash of toasted sesame oil to serve alongside. You could also stir fry bok choi or tenderstem broccoli which would go well.
You can increase or decrease the chilli content depending on your taste. I managed to add 5 tsp. of chilli flakes the other day while reading another recipe and blew my family's heads off but they still love it.
My boys (who are very hungry at the moment) say that there is never enough of this as I add 200g of chicken for a family of five so I normally do x 1.5 so there is no argument!
Adapted from a recipe by Taming Twins