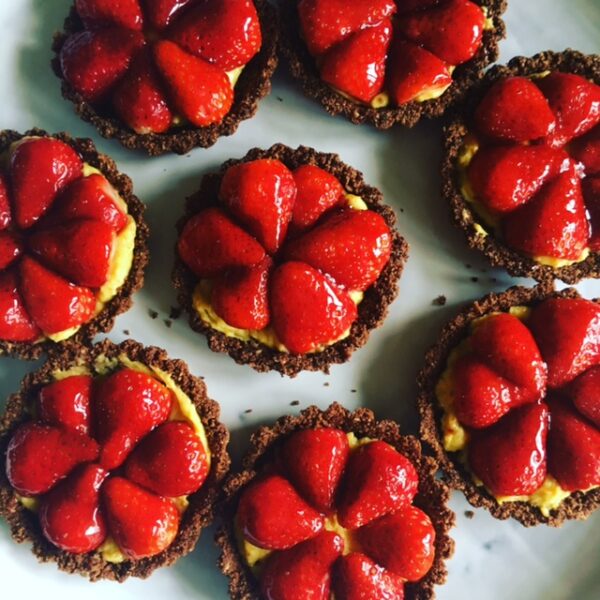 | | |
| --- | --- |
| | |
You will need 10cm loose bottomed tart tins or one large 23cm loose bottomed tart tin

For the base snap the biscuits into pieces and drop them into a food processor and blitz until you get crumbs. Melt the chocolate, butter and salt together in a bowl in the microwave or over some simmering water. Add the mixture to the biscuit mix and blitz again until the mixture starts to clump together.

Press into the loose-bottomed tart tin(s) and pat down on the bottom and up the sides of the tin with your hands or a back of a spoon. The base and sides should be evenly lined and smooth. Put into the fridge to chill and harden for 1-2 hours.

For the crème pâtissière put the milk and vanilla into a heavy-bottomed saucepan, bring to the boil and simmer very gently for about 5 minutes. Take off the heat and let it cool for around a minute.

Meanwhile, in a large bowl, whisk together the egg yolks and caster sugar until they turn a pale straw colour, then sieve in the flour and cornflour and whisk. Pour half the milk onto the egg mixture, whisking continuously, then pour back into the same pan.

Whisking constantly cook over a medium heat for 2/3 minutes to cook out the flour, it will be very thick. Transfer the crème pâtissière into a bowl. Cover the surface with a light dusting of caster sugar to prevent a skin from forming. Cool and refrigerate.

When ready to assemble, hull the strawberries and cut in half. Spread some of the crème pâtissière in each case then arrange the fruit on top.

Melt the jelly in a pan with 1 tbsp. of water. Stir gently to help it dissolve but don't whisk or boil it. Leave to cool but not so much it thickens and apply to the top of the tarts thickly with a pastry brush. Leave to set and eat the tarts within 4-5 hours
TOP TIPS
You can use all sorts of different biscuits; try Oreos, Hobnobs or even ginger nut biscuits.
If you want to make the tarts gluten free try gluten free oat biscuits and fill with my GF filling suggestion at the bottom of these tips.
Make the bases in advance but not more than a day as the crust tend to get too crumbly. They also freeze very well.
Crème pâtissière is the easiest of all creams, as the flour makes it completely stable. Don't panic if it goes a little lumpy just keep stirring and it will eventually become smooth, if all else fails pass it through a sieve!
Gluten free option - if you don't want the hassle of making crème pâtissière, a mixture of sweetened mascarpone, vanilla and crème fraîche is delicious, too.