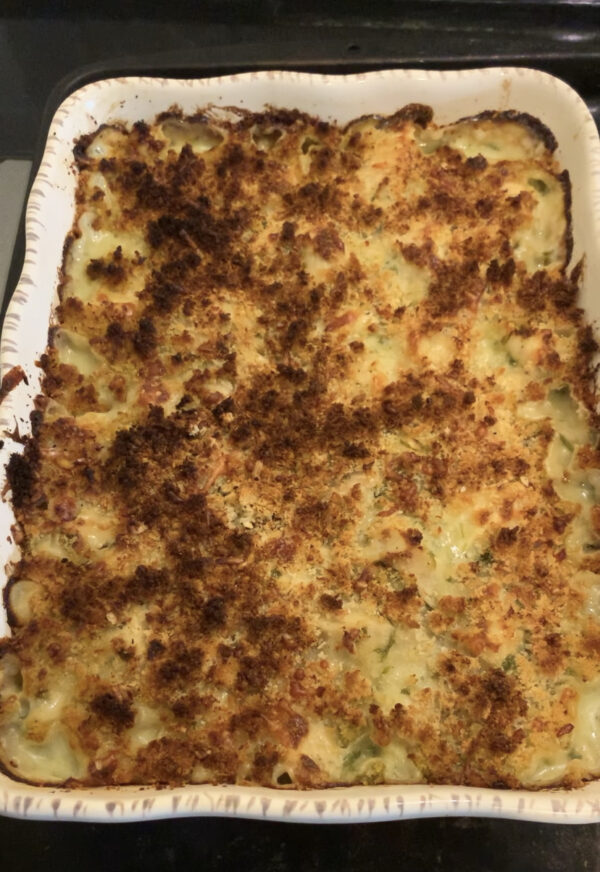 | | |
| --- | --- |
| | |
Preheat the oven to 220°C / 425°F / gas mark 7.

Cut or tear the cooked chicken into large bite-sized pieces.

To make the sauce, melt the butter in a saucepan over medium heat. Add the flour and cook, stirring, for 1-2 minutes without browning.

Gradually stir in the hot chicken stock, the white wine and cream. Keep stirring until thickened.

Stir in the cheese, mustard and tarragon. Check the seasoning then simmer, stirring occasionally, for about 5-10 minutes until smooth and thickened.

Butter a gratin or large oven proof dish and place the chicken pieces in the dish.

Pour over the sauce. Sprinkle with the breadcrumbs and Parmesan and bake for 20-25 minutes until golden brown and bubbling around the edges.

Serve with buttered new potatoes and a crisp green salad.
TOP TIPS
You can use leftover roast chicken for this dish or alternatively roast some chicken breasts or thighs in a preheated oven at 180°C / 350°F / gas mark 4 for 15-18 minutes. Cool and cut into pieces as above
There is a lot of tarragon in this dish which is fabulous and do try and make it with this amount of tarragon if you can but if you are short mix with handfuls of chopped parsley, mint, chives - any soft herb you have really. The sauce takes on a bit of a different flavour but still herby and delicious.
To make breadcrumbs get some slightly stale bread and whizz in a Magimix or with a hand held blender, you can also use shop bought or Panko breadcrumbs.