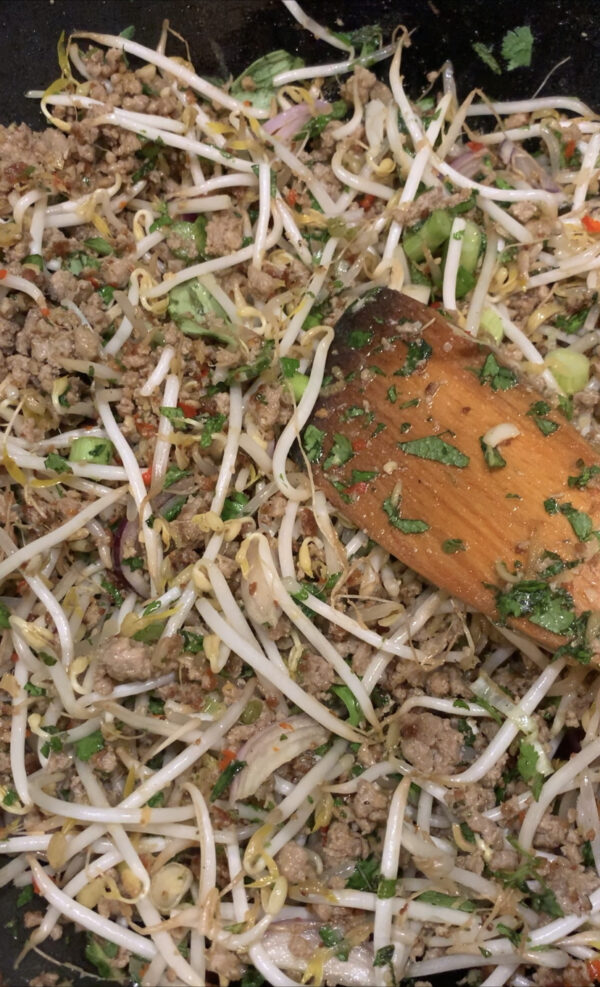 | | |
| --- | --- |
| | |
Heat a wok over a medium heat. Add the rice and cook, stirring, for 3-4 minutes or until lightly golden brown. Transfer to a mortar and gently pound with a pestle until crushed. Set aside. If you are using peanuts just roughly chop (don't cook) and set aside.

Heat the oil in a wok over high heat until just smoking. Add the pork and cook, stirring to break up any lumps, for approximately 8-10 minutes or until pork changes colour and begins to brown.

Add the lemongrass, garlic, ginger and chilli and cook, tossing, for 2 minutes or until aromatic. Remove from the heat and add the lime juice, fish sauce and sugar stir to combine. Set aside for a couple of minutes to cool slightly.

Add the bean sprouts, spring onion, shallots, coriander, mint and basil and gently toss to combine.

Sprinkle with crushed rice or peanuts and serve with jasmine rice mixed with chopped coriander and a squeeze of lime. Serve immediately.
Top Tips
This is Northern Thai salad and is traditionally served as a canapé or starter in lettuce leaves. Its sweet, salty, sour flavour is quite addictive and gives you an instant hit of those Thai flavours.  I like to serve it as a main with Thai Jasmine rice but it can be served in the lettuce leaves or in small bowl with the leaves beside it.
Try this with left over roasted/cooked pork. I made it with the leftovers of the Sunday joint, which I diced into very small cubes and fried as above from point 2. The pork became crispy and it was delicious. You can also use turkey thigh mince and chicken mince which make great alternatives.
To get ahead, make up until the end of step 2, cover and chill for up to 24 hours. Bring back up to room temperature before finishing the recipe.