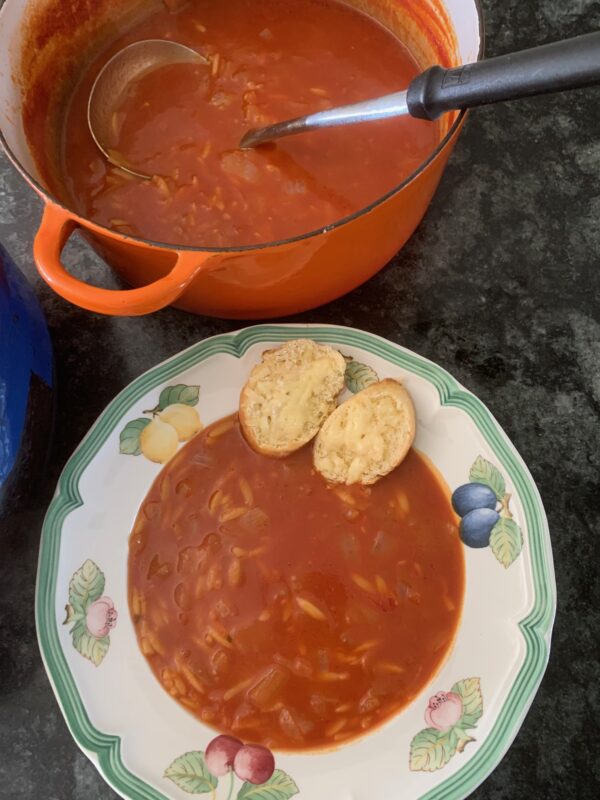 | | |
| --- | --- |
| | |
In a large pot or a Le Creuset, heat the olive oil over a medium heat. Add the onions and cook over a medium-low heat for 15 minutes, stirring occasionally, until golden brown. Add the garlic and cook for 1 more minute. Stir in the chicken stock, tomatoes, saffron, 2 tsp. salt and a good grind of pepper. Bring the soup to a boil, then lower the heat and simmer for 15 minutes.

Meanwhile, fill a medium pan with water, add 2 teaspoons salt, and bring to a boil. Add the orzo and cook for 6 minutes so it is underdone, it will finish cooking in the soup. Drain the orzo and add it to the soup and cook for 8-10 minutes.

Heat a griddle or a frying pan. Place the four slices of bread on a cutting board and brush lightly with the melted butter, being sure to butter the corners. Turn the slices over and pile Gruyère on two of the slices. Place the remaining two slices of bread on top of the Gruyère, buttered sides up.

Grill the sandwiches on the griddle or frying pan (you could also do this under the grill) for about 5 minutes, turning until nicely browned. Place on a cutting board, allow to rest for 1 minute, and cut into small cubes.

Serve the soup scattered with the croutons.
TOP TIPS
If you don't have orzo use any small pasta shape - macaroni, small conchiglie, anything really just small shapes.
You can add bacon when cooking the onion for a variation, you can stir through parsley just before serving, you can leave out the pasta for just a tomato soup - lots of variations.
If you don't have Gruyere use a strong hard cheese, I used cheddar the other day mixed with a bit of Jarlsberg I had left.  I also didn't have any white bread so I used the end of an old baguette, just make those croutons cheesy!
Adapted from a recipe from the Barefoot Contessa