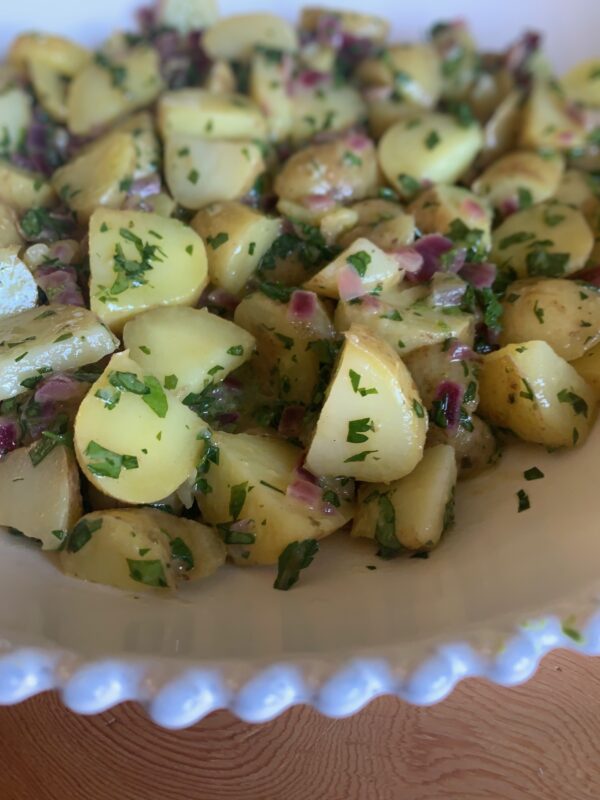 | | |
| --- | --- |
| | |
Place the potatoes into a large pan of salted water, bring to a simmer and cook for 10-15 minutes, until just tender. Drain and return the potatoes to the ban and cover with a line. Allow to steam for another 15 minutes so they finish cooking.

To make the dressing bring the stock to the boil in a small saucepan, add the chopped onion and bring back to boil and simmer for 2 mins. Strain the onions out, keeping the liquid and rinse them under cold water through a sieve to refresh. Set them aside to drain.

In a large bowl, whisk together the mustard, vinegar, oil and sugar. Whisk into that 75ml of the stock and the cooked onions, which should by now have cooled. Season well.

Once the potatoes have finished cooking in their own steam, so cool enough to handle but still warm enough to take the dressing cut them in half or into thick slices, and gently toss in the dressing.

Gently mix in the herbs and set aside for at least half an hour for the potatoes to absorb the dressing. Stir occasionally and then serve at room temperature.
TOP TIPS
Use a good waxy potato as they do not fall apart and work well in this salad.
If you don't have wild garlic just use 1 clove garlic minced and add it to the dressing in Stage 3 with the oil and vinegar.
You can add chopped crispy bacon or even chorizo to give the the salad a little bit of an extra boost.
Adapted from a recipe by Angela Clutton